The Mars mission Tianwen-1 is China's first mission to Mars and it is a ambitious one. They want to reach orbit, landing on the ground and to drive on the mars surface with a rover.
The Tianwen-1 spacecraft is the first flagship mission of China's planetary science program. Tianwen-1 means Heavenly questions-1 in Chinese language. The spacecraft was launched on China's strongest rocket Long March 5 at 23th July 2020 at Wenchang Spaceport at Hainan Island in China. During it's six month flight to Mars the spacecraft made a selfie by deploying a small cubesat – called Tianwen Deployable Camera (TDC) – on 6th October 2020. The cubesat made a photo of the Orbiter and Lander in front of the dark sky of the interplanetary space.
If everything goes well the orbiter will enter the Mars orbit at 12:01pm UTC / 06:01pm Almaty time on 10th February 2021. The Tianwen-1 mission is not only a Orbiter – it's also a lander and a Mars rover. So this mission is very ambitious for a first try at the Red Planet.
Even the scientific payload is very advanced. The Orbiter has a Mars Magnetometer (MM) to analyze Mars magnetic field, a Subsurface Detection Radar (OSR) to analyze the structure under the Mars ground, a Mars Mineralogy Spectrometer (MMS) to have a look on the geological elements on Red Planets surface. Last but not least the Orbiter is home of two cameras, High-Res Camera (HRC) and Medium Resolution Camera (MRC), to make photos of Mars during its operation time around Mars.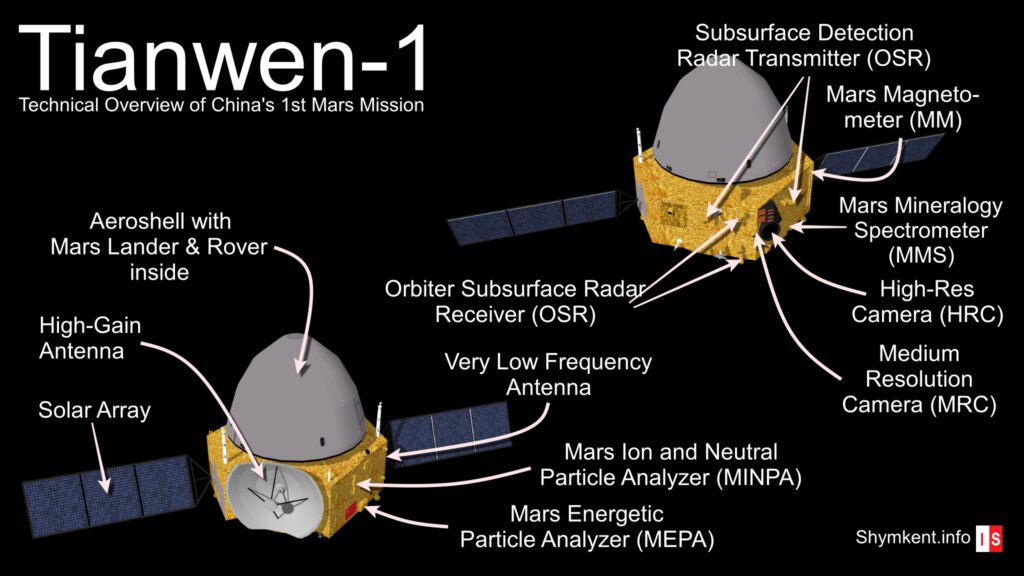 The orbiter of Tianwen-1 with a weight of 3,175 kg – if also everything goes right – will operate around Mars for two earth years.
The lander will land in May 2021 on the Mars surface in the Utopia Planitia region. After a soft landing the Mars rover with a weight of 240 kg will leave the lander and will explore the Martian rocks. This will make China to the second nation that will operate a rover on Mars – just after the United States.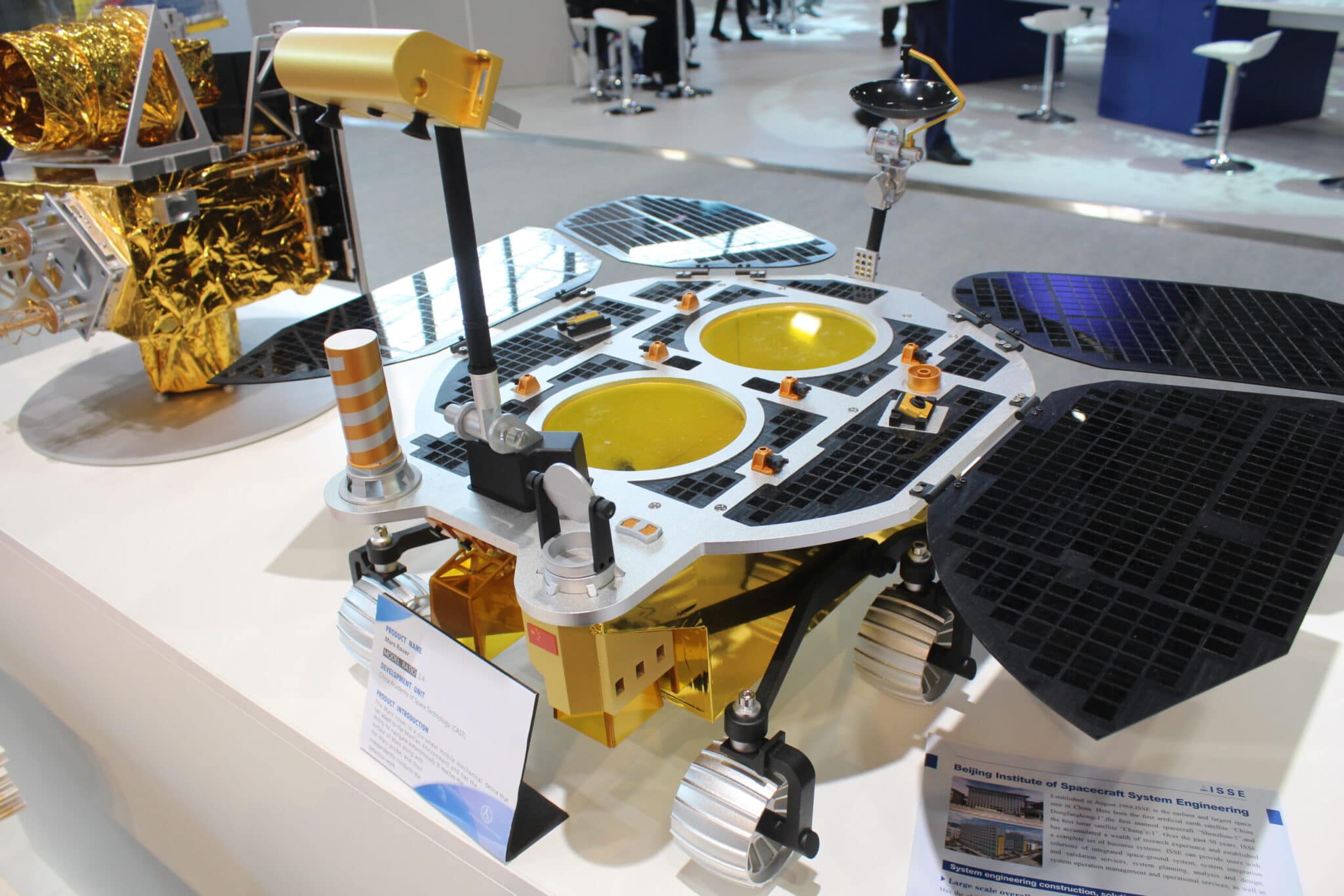 You can watch this YouTube video to get a detailed view of the full mission profile of Tianwen-1:
Mission timeline
From draft to launch
November 2015: China revealed that they want to launch a planetary mission to Mars in 2020. The mission will have a Orbiter, a lander which will land by rocket engines and parachute. Onboard of the lander will be a rover. The Mars rover will have a size of NASA's Mars Exploration Rovers Opportunity and Spirit. The working title is Huoxing-1.
November 2018: China selected two potential landing sites for their rovers. The first candidate is Chryse Planitia and the second candidate is Isidis Planitia.
10th April 2020: The Mars spacecraft arrived at Hainan Island for the last preparations before launch.
24th April 2020: China's first Mars mission changed it's name from Huoxing-1 to Tianwen-1 at China's Cosmonautics Day.
24th May 2020: The Long March 5 rocket needed for this mission arrived at Hainan Island.
23rd July 2020: Tianwen-1 was launched 04:41:15 UTC from Wenchang Spacecraft Launch Site with a Long March 5 rocket.
Tianwen-1's way to Mars
28th July 2020: Before China's first Mars mission left the Earth-Moon system it made a picture back to it's home planet and the Moon. The picture was made 1.2 million kilometers away from our Blue Planet.
2nd August 2020: Tianwen-1 performed it's first trajectory correction maneuver by ignite the main engine for around 20 seconds.
30th September 2020: Tianwen-1 sent a Selfie back to earth. It deployed a mini satellite with a camera. This satellite made some pictures of the spacecraft and send this picture via Wi-Fi back to Tianwen-1. On this day Tianwen-1 was travelled already 188 million kilometers and was about 24.1 million kilometers away from our planet Earth.
10th October 2020: The second trajectory correction burn was performed by Tianwen-1. The main engine was fired for eight minutes. The spacecraft was 29.4 million kilometers away from Earth.
28th October 2020: Tianwen-1 executed the third trajectory correction maneuver. The spacecraft fired eight 25N engines. It was also a calibration test of this 25 Newton engines. China's Mars spacecraft was 44 million kilometers away from the earth
5th February 2021: China's Mars spacecraft sent first picture of Mars back to earth. The picture was made 2.2 million kilometers away from Mars.
Tianwen-1 at Mars
10th February 2021: China's first planetary science mission to Mars entered the Mars orbit successfully.
15th February 2021: Tianwen-1 performed a major orbit inclination change to switch to a polar orbit around Mars. The polar orbit is important to map the Red Planet.
20th February 2021: The orbiter started to decrease the Mars orbit apogee from 180,000 to 60,000 km. The orbit period is down from 10 days to 2 days for one orbit.
24th February 2021: Tianwen-1 arrived it's 2-sol reconnaissance orbit (280 x 59,000 kilometres). This orbit will be used to map Mars and to make the final decision for the correct landing zone for the rover in NET May.
4th March 2021: First batch of high-res images in b/w and color was released: one color image with North Pole of Mars and two pan-image from Planitia Utopia.