Shymkent Press Tour – Day 2
Discover with INFOSHYMKENT the culture, cuisine, and scenic wonders of Shymkent on the 2nd day of 'Visit Shymkent's press tour.
Our second day on the press tour organized by the Tourism Center of Shymkent, 'Visit Shymkent', began with a beautiful view from our hotel balcony. The azure sky and the glistening sun on the Konayev Avenue skyline of Shymkent set the stage for another day of exciting exploration.
To fuel ourselves for the day ahead, we enjoyed a delicious continental breakfast at the Megapolis Hotel in Shymkent. The spread included mouthwatering local cakes and mini samsas, giving us the energy needed for our second day of our trip.
Boarding our vibrant red double-decker tour bus once again, we embarked on a journey to discover another facet of Shymkent's cultural and historical richness.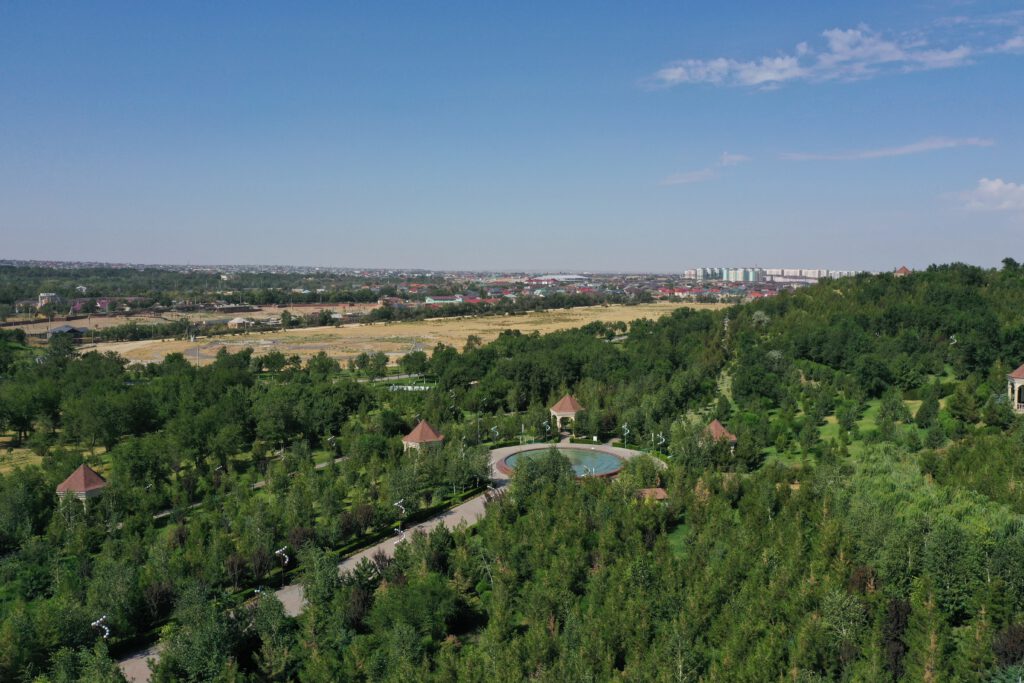 Our first stop was the cultural complex 'Kazyna' (in English it means 'Treasure') where the Baidibek Bi Monument is situated at the highest point of the city. This cultural complex offers breathtaking views of the city's newest districts and the snow-capped peaks of the Aksu-Zhabagly National Reserve in the Western Tian Shan Mountains. The Baidibek Bi Monument was erected in 2012 to celebrate the 80th birthday of the South Kazakhstan region, stands at a staggering 10 meters in height and features a 9-meter pedestal. This iron statue with the wide open arms, weighing nine metric tonnes, bears a resemblance to the famous Christ the Redeemer Statue in Rio de Janeiro. Baidibek Bi, a famous Kazakh wise-man, lawmaker and leader, who unified the Kazakh tribes to defend against Dzungarian attacks.
Following our visit to the Baidibek Bi Monument, we explored the neighboring miniature park of the complex 'Kazyna'. This ethnopark is nestled in a beautifully landscaped area adorned with young trees and hedges. Here, it's possible to see the miniature replicas of Kazakhstan's historical and architectural landmarks, including the mausoleum of Khoja Ahmed Yasawi in Turkestan, mausoleums of Domalak Ana and Arystan Bab, and prototypes of minarets and madrasahs from various regions of southern Kazakhstan.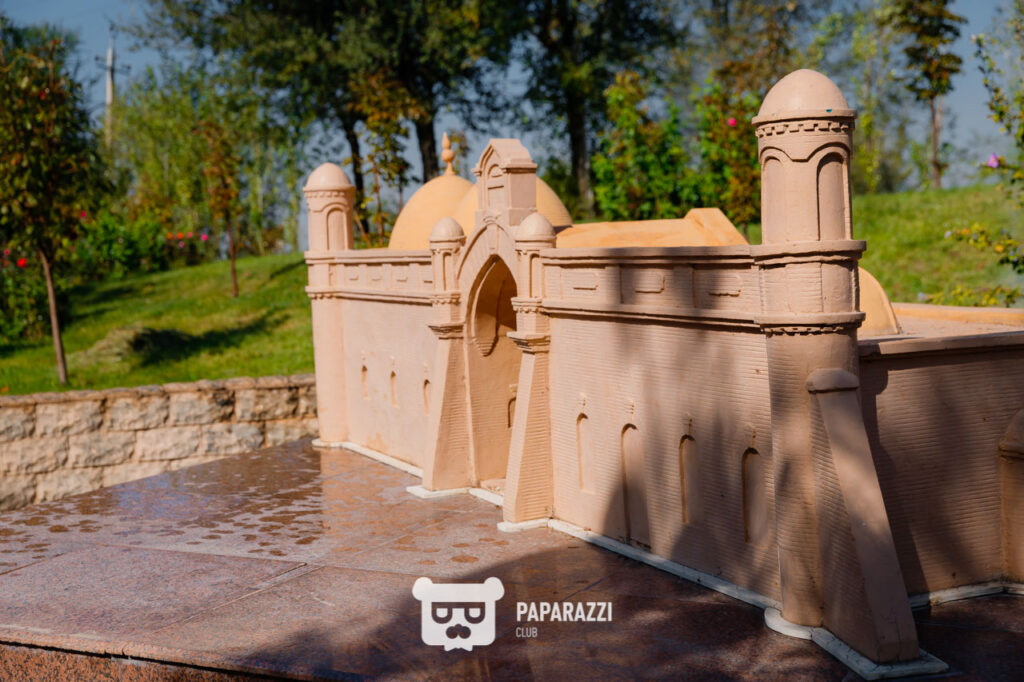 Strolling through the lush ethnopark, we reached the 'South Kazakhstan Regional Historical Museum' located at the base of the 'Kazyna' complex. This two-story museum is one of the biggest and oldest museums in southern Kazakhstan, and it houses a splendid collection of artifacts arranged chronologically, from the age of dinosaurs and prehistoric times to the Arabic Conquest, Kazakh Khanate, Soviet era, and the present day. The museum boasts fossilized shark teeth and dinosaur bones from the Karatau mountains, Chinese ceramics from ancient Silk Road settlements, traditional yurts with Kazakh instruments and carpets with Kazakh traditional ornaments, and much more. The museum guide provided our group with fascinating insights, and the overall design, artifact presentation, and multilingual inscriptions in Kazakh, Russian, and English reflects a very well-crafted exhibition. It felt like a slightly smaller version of the 'National Museum' in Bishkek, Kyrgyzstan.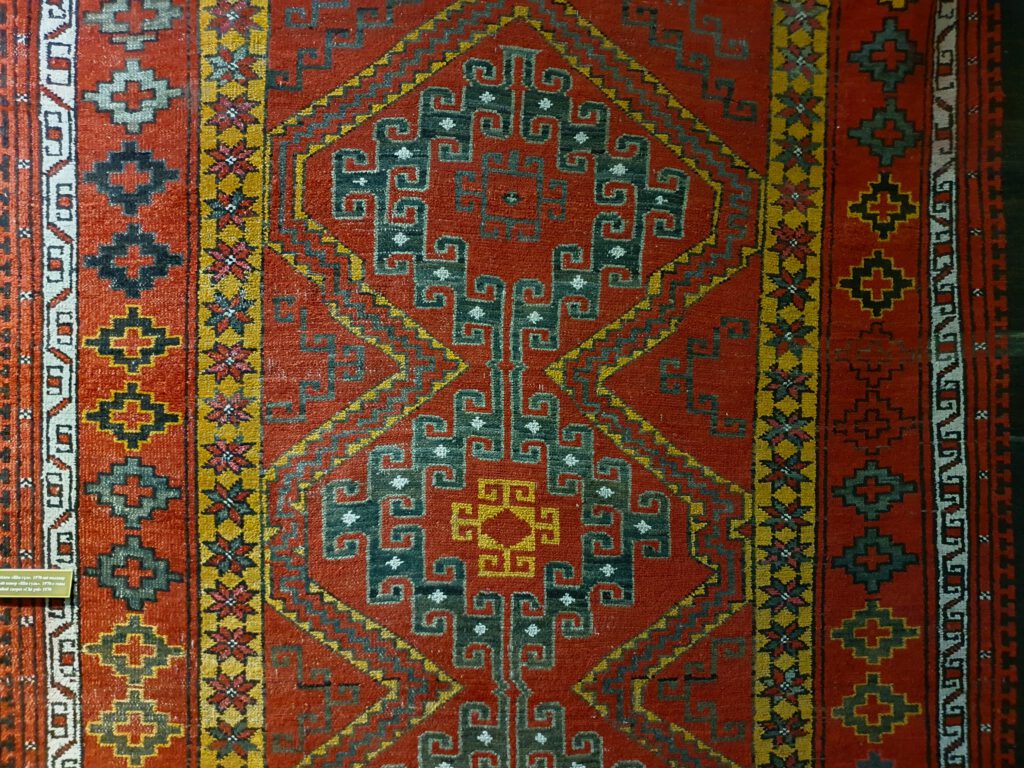 With our minds enriched by history and culture, we developed hearty appetites and made our way to the local teahouse 'Kausar'. Here, we savored Kazakh Manti, a dumpling filled with meat, pumpkin, onions, and other delectable ingredients.
After a satisfying lunch and delightful conversations with fellow press tour participants, we re-boarded our excursion bus and headed to the Central Park of Shymkent. Located near one of the city's popular amusement parks, 'Ken Baba', the Central Park is a hub for chess enthusiasts, offering a space for strategic thinking and friendly games. Adjacent to the park are national and international universities, making it a favorite spot for students to gather and socialize.
Within Central Park, we discovered an exhibition center showcasing traditional handmade products. Here, we enjoyed the Kazakh paintings in traditional style, various handmade bed mattresses and pillows adorned with Kazakh ornaments, national jewelry, traditional clothing, and even tried our hand at crafting clay jars. Crafting the jars turned out to be more challenging than we expected, but with the guidance of an expert, we made our own unique pieces and received national-style souvenirs.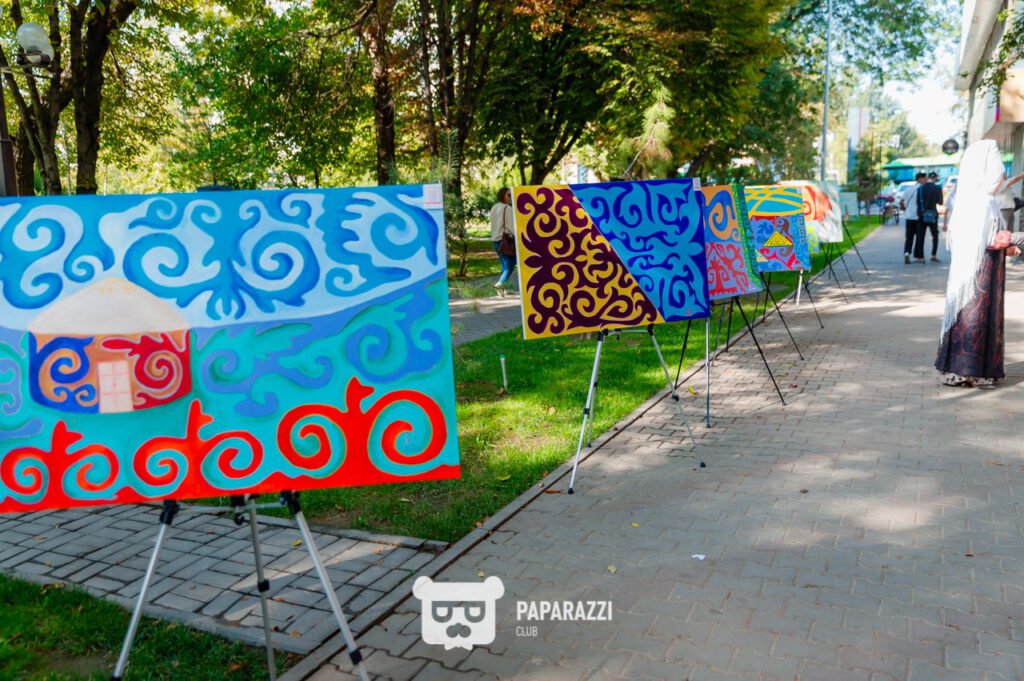 As evening approached, we made a brief stop at the Bar 'Kvas Ot Barno' (Kvass from Barno) near Victory Park. Kvass, a fermented cereal-based non-alcoholic beverage, is a popular drink in Kazakhstan, especially during hot summer months. The bar offered a range of homemade Kvass drinks, from sweet to sour, providing a refreshing experience and a taste of Central Asian culture.
Concluding our day of exploration, we headed to the traditional Kazakh restaurant 'Bozjyra' for dinner. Here, we indulged in delicious Kazakh dishes such as Beshbarmak, Bausarks, and more.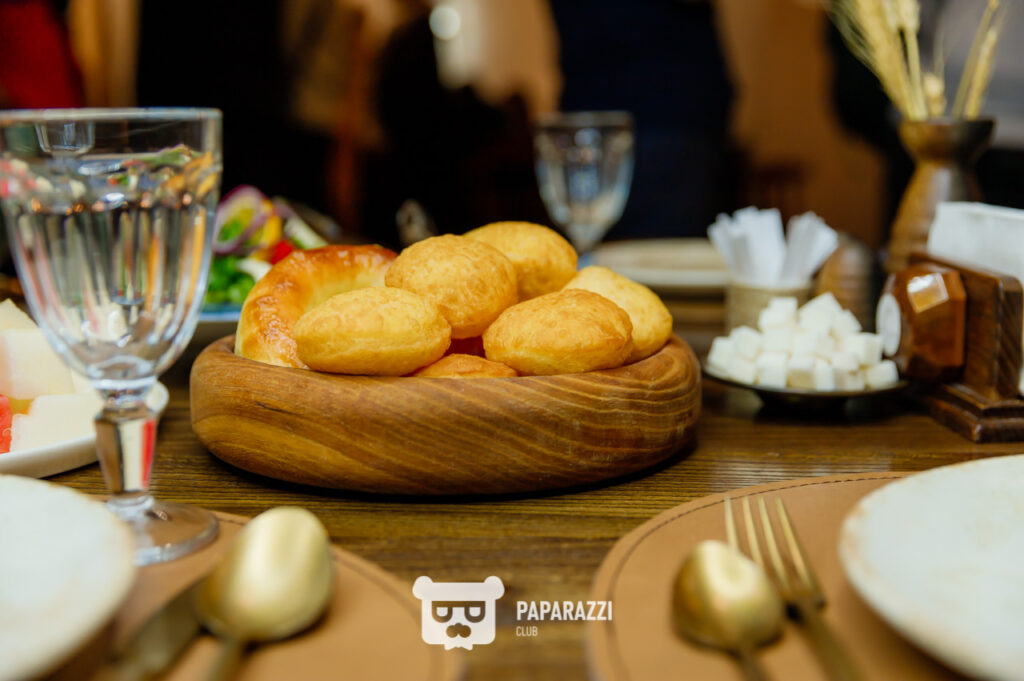 To cap off the evening, we visited the Arbat, a pedestrian street lined with charming cafes and restaurants. The Arbat is a vibrant nighttime hotspot known for live music and street performers showcasing their talents. Overhead, a spectacular display of colorful light art with umbrellas and angels illuminated the street, creating a magical and unforgettable atmosphere.
After this eventful day, we returned to our hotel, eager to rest and prepare for the next and last chapter of the 'Visit Shymkent' Press Tour.
P.S.: Thank you very much Paparazzi Club Shymkent for letting us to use your pictures, again!
👉 You missed our report about the 1st day of Shymkent Press Tour? Click here!