Domalak Ana – a wise Kazakh woman
Info Shymkent went to the Domalak Ana Mausoleum to learn more about this famous wise woman.
The Mausoleum of Domalak Ana is just an hour away from Shymkent. We took a car in summer and went to north – close to the village Boralday to visit the mausoleum on the southern slope of the Karatau Mountains, close to the river Balabogen.
Who was Domalak Ana? Her real name is Nurila Ali Sylankyzy. She lived in the 10th century and was popularly known as "Domalak Ana". "Domalak Ana" – that means "Chubby Mother". But there is another version – "Dihnat Ana" and it means from persian language – "Sacred Mother". Nurila was the third wife of Kazakh wise man Baidibek Bi. As legend says, Nurila saved her husband's life, and also was known for her kindness, honesty and prudence.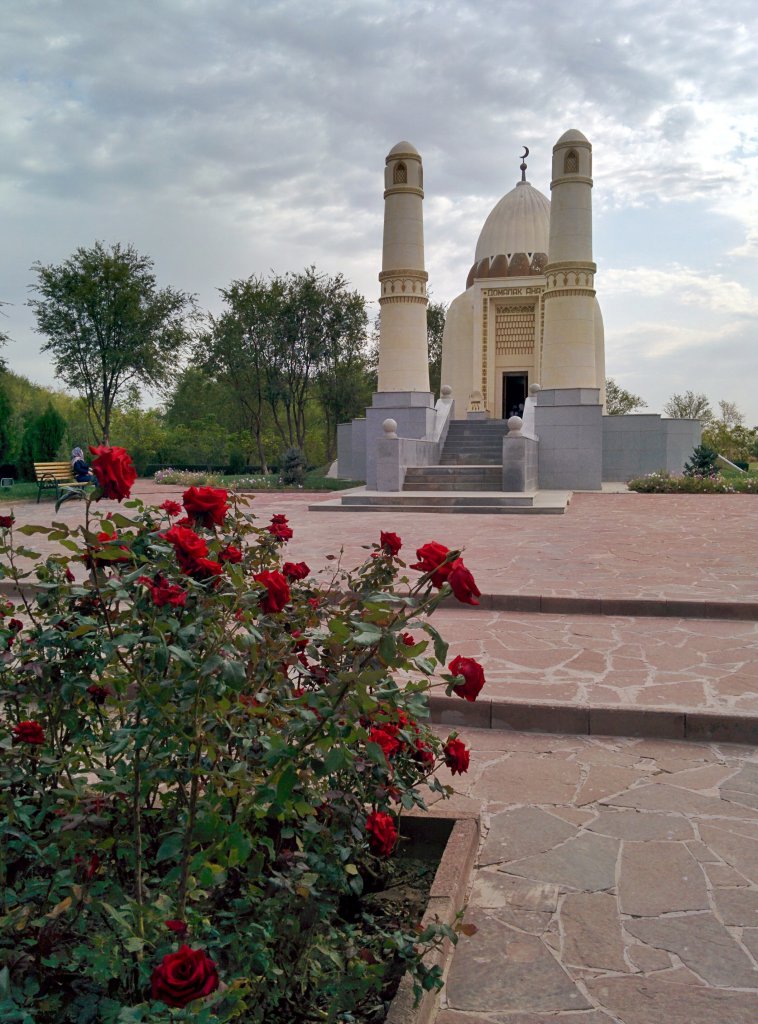 Her grand-grandson Dulat ordered the famous architect Abdullah Sheri from Bukhara to build a mausoleum on her grave. The four wall mausoleum with small domes on the roof was finished in 1456. It was restored several times later.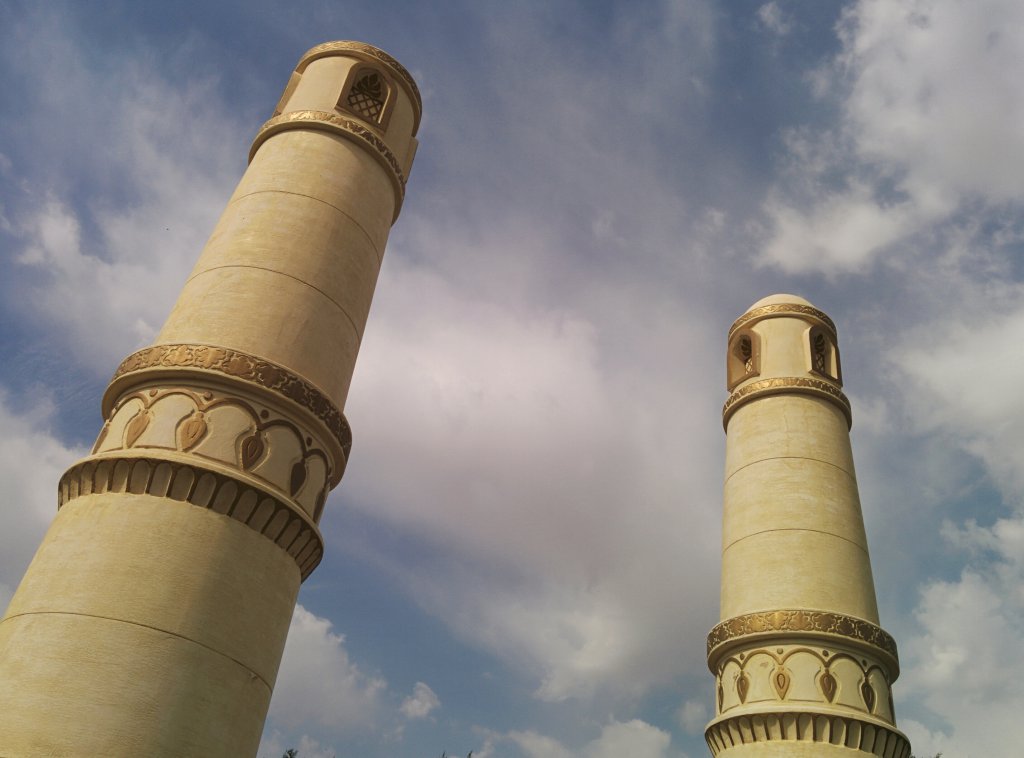 The mausoleum was removed at the beginning of the 20th century and a new mausoleum was built with six niches and a big dome on the main structure. It was restored in 1957 again.
The people of South Kazakhstan decided to built a new mausoleum in 1996 and removed the old mausoleum. The brickwork was made of fine white stones delivered from the Mangystau area. The height of the golden and white minarets are around 12 meters and a eight-cupola dome is on the roof of the building.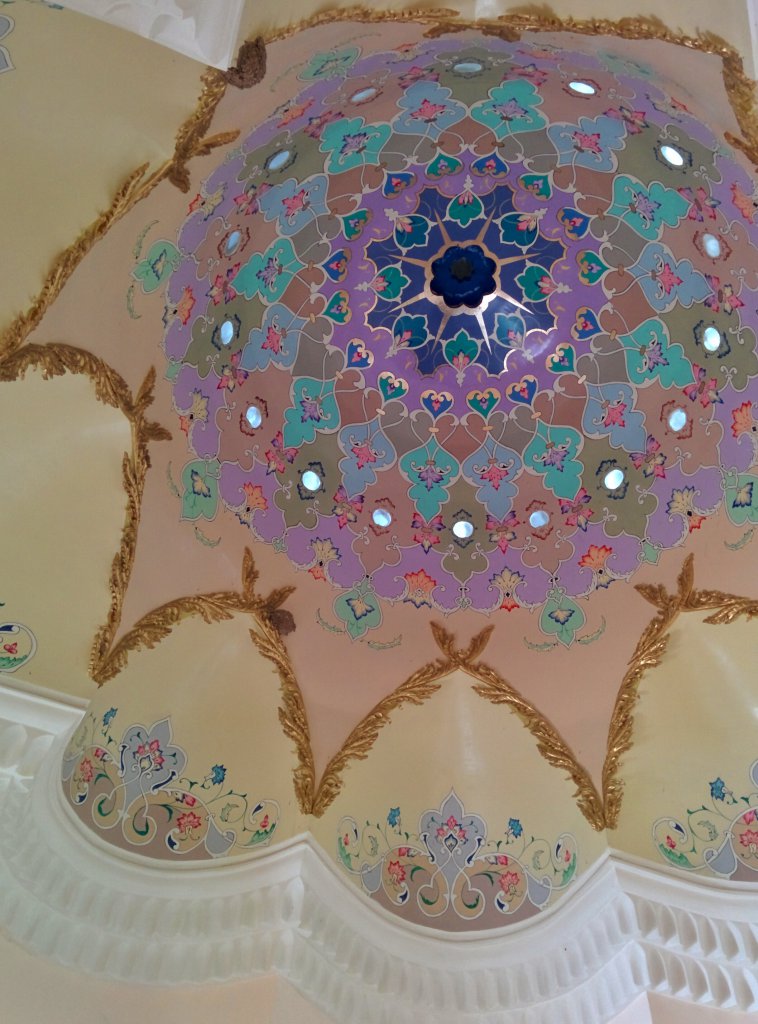 During the walk around the Mausoleum it's possible to see a wonderful view of Kazakh steppe and the Karatau Mountains in the far distance.
After we had a look inside of the Mausoleum we relaxed and ate lunch in the beautiful park around the Domalak Ana Mausoleum. The park was finished in 2000. There are many beautiful and colorful roses and big trees. This park is a nice and calm place to enjoy the cold and fresh shade during the hot sunny days in South Kazakhstan.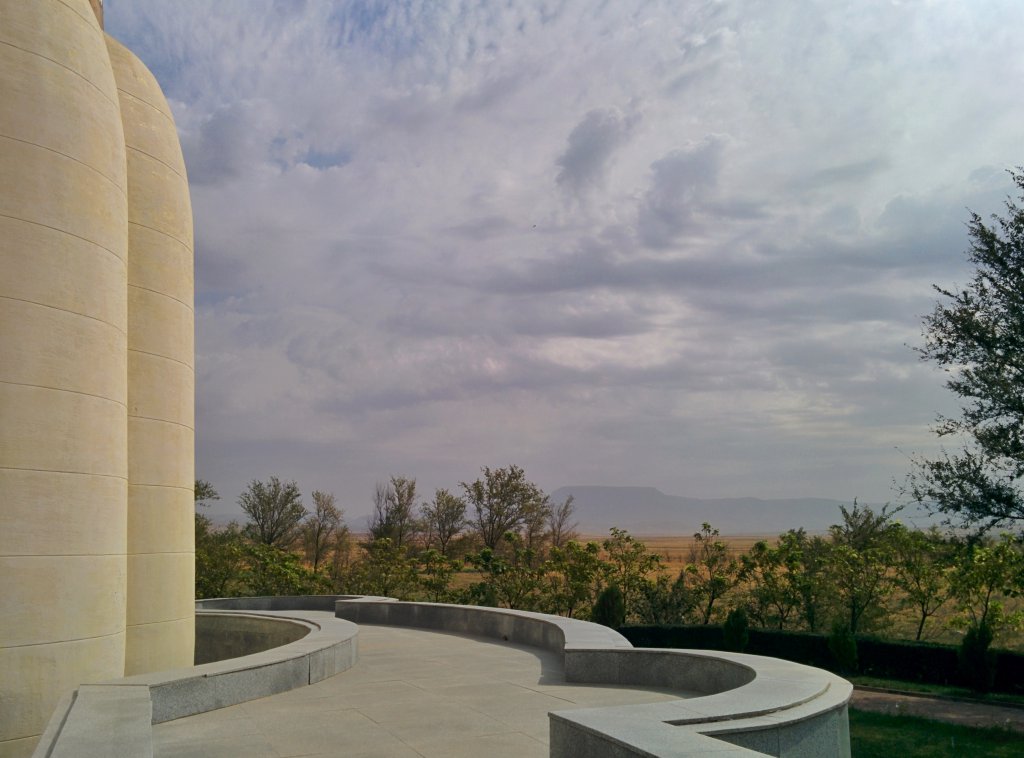 We recommend to visit this place also to enjoy the beautiful landscapes of Kazakhstan. By the way, it's easy to connect the visit with the trip to the Akmechit Cave.
More informations about Domalak Ana: https://e-history.kz/en/publications/view/v_narode_ee_prozvali_domalak_ana__1361