Cosmonautics Day: Kazakhstan's cosmonauts
Kazakhstan is not only home of Baikonur, but also the birthplace of many cosmonauts. We will introduce them on today's Cosmonautics Day.
The first human who left our beautiful earth was the Soviet cosmonaut Yuri Gagarin. He went to space in the Vostok-1 capsule on top of a derived R-7 intercontinental ballistic missile from Baikonur Cosmodrome in Kazakhstan 62 years ago. This day is celebrated in post-soviet countries as Cosmonautics Day. Also, Kazakhstan is celebrating this historical day as well. So, it is time to have a look on the Cosmonauts who was born on the territory of Central Asia's largest country.
Toktar Aubakirov
Toktar Aubakirov, the first Kazakh who went to space, was born on 17th November 1958, in Karaganda in the Kazakh SSR. He became a very good test pilot and flied over 50 different aircraft types. He was also the first Soviet pilot who take-off from an aircraft carrier. In 1991 he started his Cosmonaut training and went to the Russian space station Mir together with the first Austrian cosmonaut Franz Viehböck and Russian commander Alexander Volkov on board of Soyuz TM-13 on 2nd October 1991. Three popular politicians watched at the Cosmodrome Baikonur how the Soyuz rocket with the three cosmonauts went to space: Soviet Premier Ivan Silaev, Kazakh SSR Nursultan Nazarbayev and Chancellor of Austria Franz Vranitzky. During this space flight Toktar Aubakirov spent 7 days, 22 hours and 12 minutes in space. He performed at the Mir station photography observations of his home country Kazakhstan and carried out multiple experiments in the field of material processing and medicine. Two years after his return from space he became the general director of the newly founded National Aerospace Agency of Republic of Kazakhstan – called KazCosmos. Today Toktar Aubakirov is a retired Kazakhstani cosmonaut. Aubakirov has been awarded several medals for his achievements in space exploration such as the People's Hero of Kazakhstan and For Merit in Space Exploration.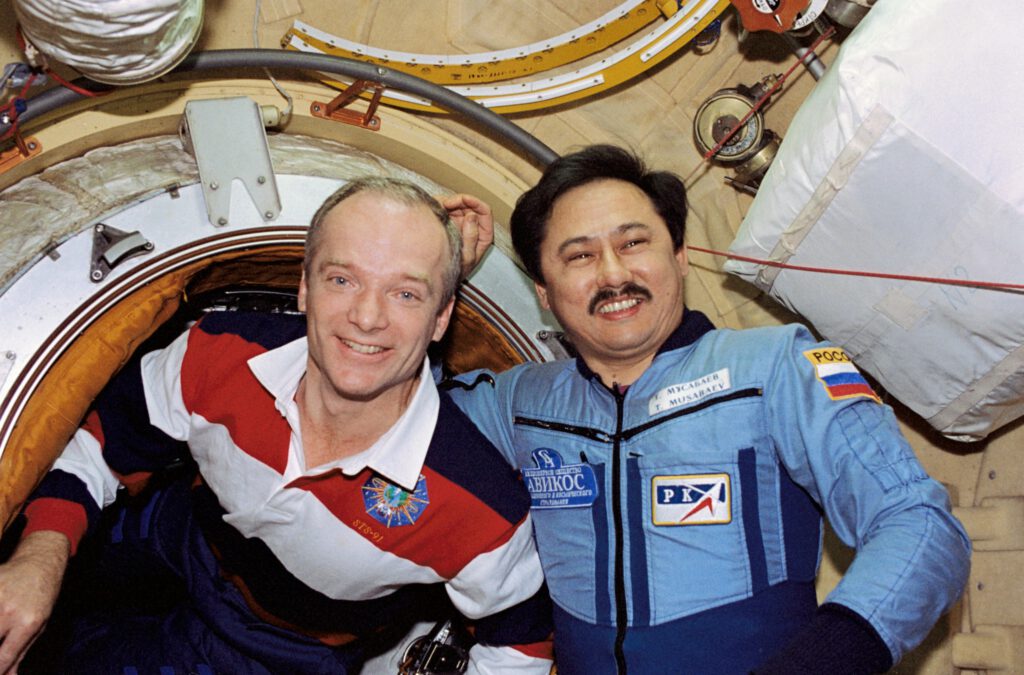 Talgat Musabayev
Born on 1st June 1951, in the small village Kargaly near Almaty in the Kazakh Soviet Socialist Republic, Talgat Musabayev is one of Kazakhstan's most popular cosmonauts. He started his career as a has spent a total of 438 days in space over three missions, making him the most experienced Kazakh astronaut to date. He took three rocket rides to space stations: two to the Russian space station Mir (Soyuz TM-19 in 1994 and Soyuz TM-27 in 1998) and one to the International Space Station (Soyuz TM-32 in 2001). He also performed seven spacewalks with a overall length of 41 hours and 13 minutes. On his last flight in 2001 he took care about the first space tourist Dennis Tito and shared his space experience to him. After his retirement as a cosmonaut, he became the successor of Toktar Aubakirov at KazCosmos. Also, Talgat Musabayev is today retired and has been awarded the medals People's Hero of Kazakhstan and For Merit in Space Exploration as well.
Aidyn Aimbetov
Aidyn Aimbetov was born in 27th July 1972 near the city Taldykorgan in the Kazakh SSR. He became a military pilot at the Air Force of the Republic of Kazakhstan in May 1993 and became a skilled aviator who flied different aircraft types. In 2003 he started his training his cosmonaut training and was selected for a spaceflight in autumn 2009. But everything went different: Because of financial issues the flight of Aimbetov was skipped and he started to work at KazCosmos. But in June 2015 came the surprise. The short-term opportunity for an ISS flight for Kazakhstan arose when the British singer Sarah Brightman canceled her already confirmed participation in a space flight to the International Space Station. So Aimbetov took a ride on Soyuz TMA-18M. It was the 500th launch of a Soyuz rocket from Cosmodrome Baikonur, the 125th manned flight of a Soyuz spacecraft and the 300th manned flight to space. He spent 9 days 20 hours and 14 minutes in space and conducted multiple experiments on the ISS. After his return from space, he resumed his work at KazCosmos.
Yury Lonchakov
But we must mention also two additional Russian cosmonauts who were born in nowadays territory of Kazakhstan. The first is Yury Lonchakov. He was born in city of Balkhash on 4th March 1965 in the Kazakh Soviet Socialist Republic and made three space flights as as Russian cosmonaut to the International Space Station. His first mission was with the Space Shuttle flight STS-100. The other two were two Soyuz flights Soyuz TMA-1 and Soyuz TMA-13. He left the Russian Cosmonaut Group for a business job in 2013.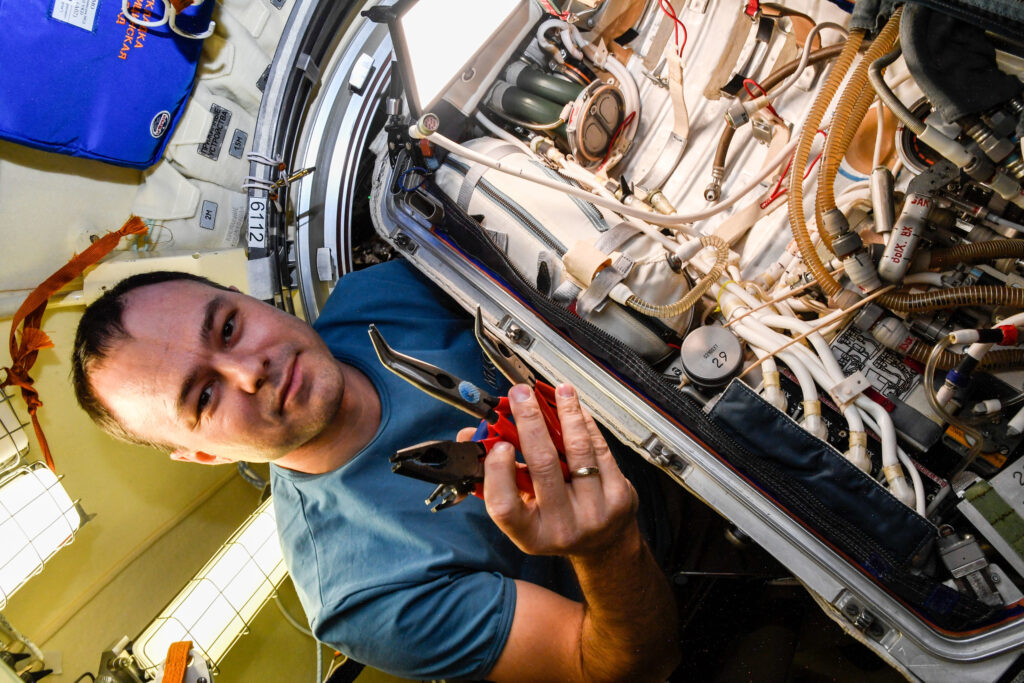 Dmitry Petelin
The other Russian cosmonaut who was born on Kazakh territory is Dmitry Petelin. He was born in Kostanay on 10th July 1983. He went as a Russian cosmonaut to the international human outpost in near Earth orbit in September 2022 with the Soyuz MS-22 spacecraft and is currently in space. Original it was planned that he and his crew will come in March 2023. But the spacecraft experienced a malfunction in orbit caused by a micro meteorite. So, the crew of Soyuz MS-22 must wait for the unmanned rescue spacecraft Soyuz MS-23 which arrived on 23rd February this year It is expected that Dmitry Petelin and his crew will return to Earth in Mid-September 2023 with the new spacecraft.
Three Kazakh cosmonauts and overall, five cosmonauts who were born on the nowadays Kazakhstan went to space so far. In these days spaceflight is getting more a daily business and more commercial. Let's see when the next door will be open for another cosmonaut from Kazakhstan. Have a great Cosmonautics Day!