You want to see a necklace of moving stars? Watch to the Starlink satellites after sunset on the Sky.
Maybe some of you watched at the starry night to the sky over Shymkent. After sunset you can see currently some "UFOs (unidentified flying objects)" at night. Over 30-60 moving light dots crossing the night sky, and it looks like a moving white-pearl necklace.
These white moving stars are satellites of the American investor Elon Musk and his space company SpaceX. He want to build a satellite constellation of 12,000 satellites to provide broadband internet in every corner of the world.
SpaceX tries to launch 60 satellites every month to get the network operationally at the end of 2020.
This opens the opportunity that also every Kazakh – in the steppe or in the city – will have stable internet access to read Info Shymkent, watching Instagram and YouTube.
These visible satellites are only satellites which are on their way to their final position. They will be not visible after reaching their final parking slot.
So, lets have a look and enjoy this necklace on the sky this evening:
Watch to the South-west at 7 p.m. and see two bright "stars" – the planets Venus and Mercury. In the next minutes between 7:01 till 7:10 p.m. multiple small light dots will pass the Venus. These are the Starlink satellites!
The star map shows the flight track of the Starlink satellites tonight: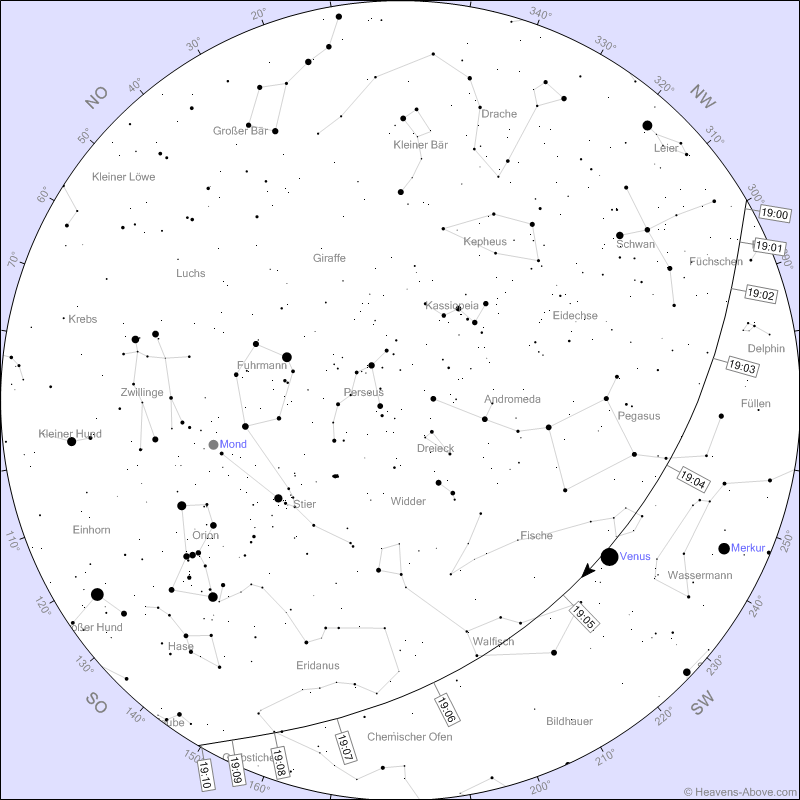 More informations about SpaceX Starlink Constellation: https://en.wikipedia.org/wiki/SpaceX_Starlink