Up in the air with Amirkhan Mahambetov
Amirkhan Mahambetov is a young skilled videomaker and photographer from Shymkent. He likes to share the view of Shymkent from above by drone.
We reached him out and got the opportunity to have a interview with him.
Info Shymkent: Hello Amirkhan. How are you?
Amirkhan: Hello, I'm fine thanks. And you?
Info Shymkent: We are fine. Thanks. Amirkhan, can you introduce yourself a little bit?
Amirkhan: My full name is Mahambetov Amirkhan Akimkhanuly. I was born in Turkistan region, in the town Arys. I studied at school in Arys and then two years I studied at Sport School in Almaty. After that I studied at Miras University in Shymkent and gratuated there.
Info Shymkent: How did you come on the way of video maker and photographer? Is this a long-standing hobby?
Amirkhan: Actually, I didn't choose the way of videographer very fast, I had friends who are making movies. As actor I took part in their videos. So, their work made me curious. I started to learn to make unforgettable videos and photos in Shymkent.
Info Shymkent: In some countries of Europe the drone flight is limited. How is it in Kazakhstan?
Amirkhan: Yes, in other countries the use of drones are limited. Even in our neighbor country Uzbekistan flying drones is forbidden. If they recognizing the drone at the border control, they have the possibility to seize it. What about in Kazakhstan? In our country it's not forbidden to use the drone. I've never had such situations. But it's forbidden to use it in such places like airport and etc.
Info Shymkent: Which kind of drone you are using?
Amirkhan: My drone's brand is DJI, I'm using the Mavic Air drone. The colour of the drone is white and small. It's very comfortable and an inexpensive drone.
Info Shymkent: Can you describe your daily work? Are you making the videos by special order or are you doing this just for fun?
Amirkhan: I have different jobs at different working places. So I'm working at the "ASR detailing & repair center" in Shymkent – this is a car tuning & repair shop. And also I'm a videomaker of Miras University. In my free time I'm working for special orders. For Example: for couples I make "Love Story" videos, Advertising videos and etc. In other time I like making nice videos about Shymkent and Nature (Mountains). For me it's interesting and it's inspiring me.
Info Shymkent: Is COVID-19 interrupting your work?
Amirkhan: Of course Coronavirus is interrupting to work. Now it's tricky to get order from customers and to make a video in the city. Even it's difficult to go outside because of quarantine. People have to be carefully to don't get this virus. So, take care yourself!
Info Shymkent: Can you tell us your opinion about Shymkent?
Amirkhan: Shymkent is my lovely city. Because I grow up here and I spend my student life, too. In my opinion the weather in Shymkent is very nice to walk through the city. I would like to say: In Shymkent is not only the weather great – also the city offers very great places! But not only the city, also around Shymkent there are very much amazing Mountainous areas. If you are coming to Shymkent you will not be regret.
Info Shymkent: Which places of Kazakhstan do you like?
Amirkhan: I visited very often the mountains of Turkistan region. I liked from these places most the Kaskasu mountains. In Kaskasu the view is very nice and the weather is also very comfortable. It's just amazing to be there! If I'm going there in the future I will send you nice videos of this place – for sure!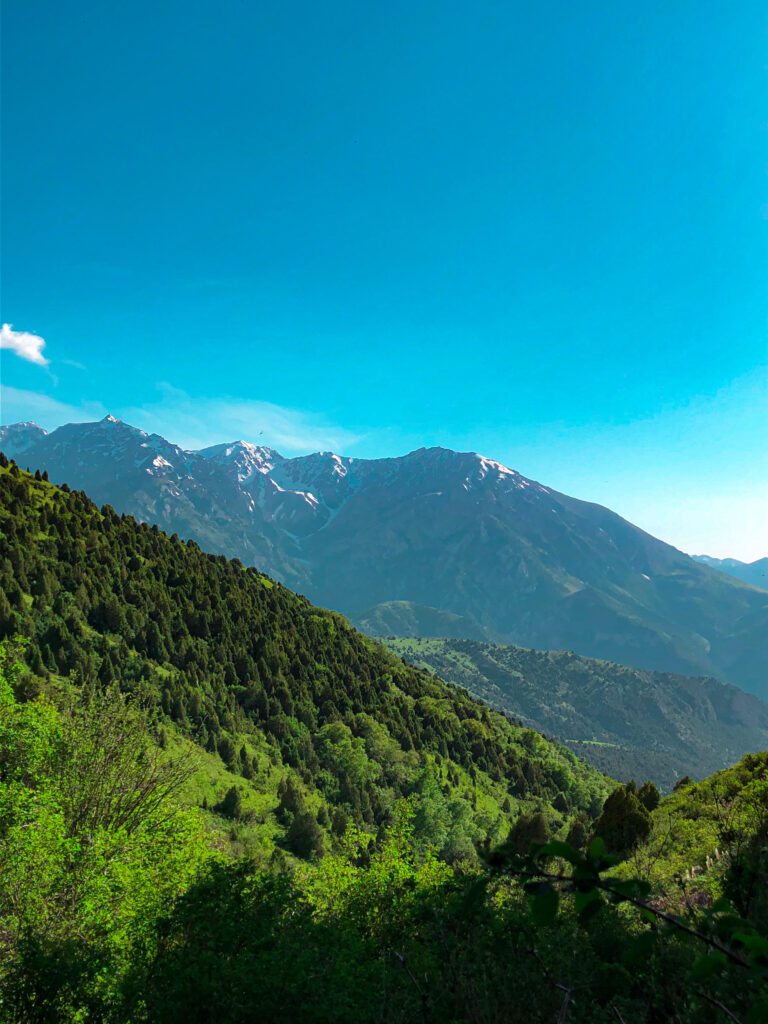 Info Shymkent: Which plans do you have for the future?
Amirkhan: In the future I want to improve my skills. Especially, I want to improve even more in the field of film making. And I have so much ideas, projects and sets in my mind. I hope that I can achieve it.
Info Shymkent: Thank you very much for the nice interview and we wish you luck and success to achieve your dreams, Amirkhan. Stay healthy!
You can follow Amirkhan Mahambetov and watch his work: