Combination of cartoon, portrait & fashion: Art by Zhuldyz Zholbarys
Info Shymkent talked with 23 year old Kazakh artist & digital illustrator Zhuldyz Zholbarys about her art which connects Traditional Fashion with modern art.
Info Shymkent: Hello, Zhuldyz. How are you? Where are you now?
Zhuldyz: Hi, I'm doing well. Thank you. Currently I'm living in Almaty.
Info Shymkent: Zhuldyz, how did you become an Artist? Who affected or inspired you to become a Painter?
Zhuldyz: So far as I remember that as child I always liked to draw. I've wanted to become an artist since my childhood. At school my favorite subject was Art. I loved drawing, sketching, sculpturing and designing. And it wasn't enough for me, I wanted to paint more. And I decided to take additional education, so I went to the School of Art and Design named after Abilkhan Kasteev in Almaty when I was 15 years old. I've learned fundamental knowledge from the Kasteev School of Art and Design. And through the years I found out who I really want to be. And it was a slow awakening process over many years. After finishing school I decided to be a fashion designer and I got the opportunity to start my degree in Bachelor of Arts in Fashion Design at Limkokwing University of Creative Technology in Malaysia in 2015. I could finish my study with high distinction successfully in 2019. At university I discovered for myself the digital illustration. And I totally fell in love with the Digital Art. And my digital painting journey started also from 2015. As my portfolio I opened an Instagram account in 2019 and people started following me. This is how I became a Digital Artist. The desire to be an artist comes from the passion and interest. My passion to draw has inspired me to become an artist.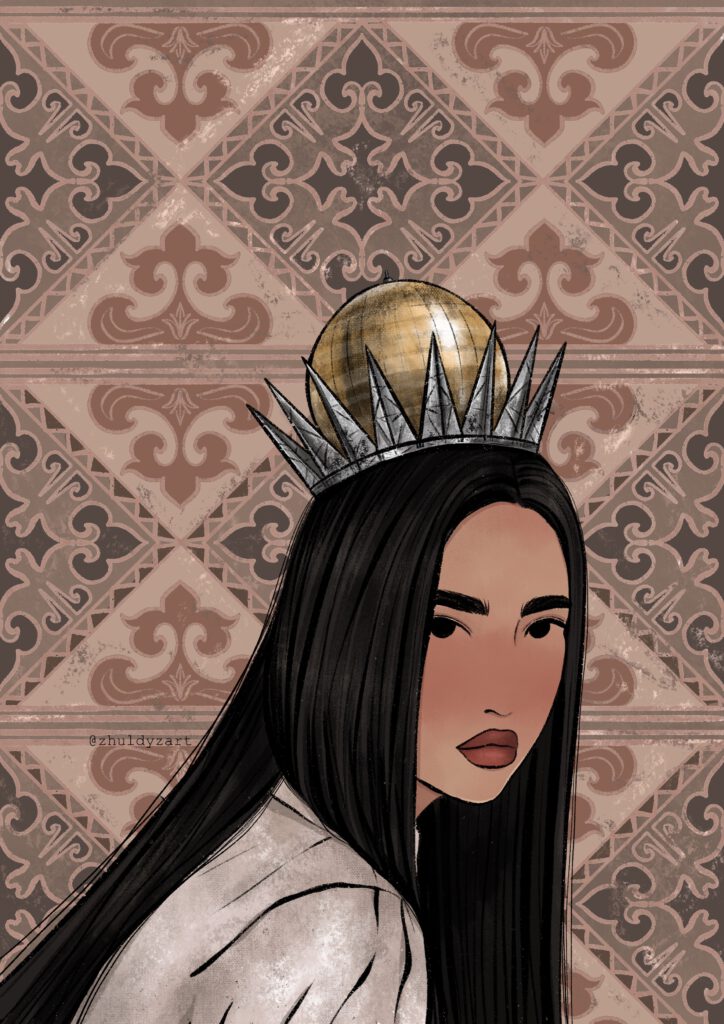 Info Shymkent: You are using mostly digital devices for painting. Which device is your favorite one?
Zhuldyz: Through the years I used many apps and devices. And my favorite device is iPad Pro. The app which I'm using is called PROCREATE – a really convenient app.
Info Shymkent: You are painting Kazakh girls and sometimes mixing the national style with modern one. Can you tell about your painting style, please?
Zhuldyz: Yes, in my paintings I mix the national and the modern style. It was a really long journey to find my signature style. I spent over 10 years to find my own style of painting. I have learnt different styles and types of drawing such as cartoon, life drawings/figure drawing, semi realistic art, portraits, fashion illustration/fashion sketching and etc. And over the years I combined all the materials and knowledge of art that I learned and created my own Signature Style. And my style of painting is a combination of cartoon, portrait and fashion. I really love to draw portrait of girls and fashion sketches! When people look at my paintings, they have to feel the aura of elegance and femininity. Actually I'm deeply interested in the history of the Central Asia, especially my country – KAZAKHSTAN. That's why the most essential part of my drawings are: Traditional Kazakh Accessories, Kazakh Garments and Kazakh Jewelries. And in my drawing style I simply want to show my voice, my handwriting, my visual language, my knowledge, my nationality. I just want to show the history of my country and my culture through my paintings. Our country have such amazing and magnificent background of history that you want to learn more and more. And I draw Kazakh girls as a symbol of Beauty.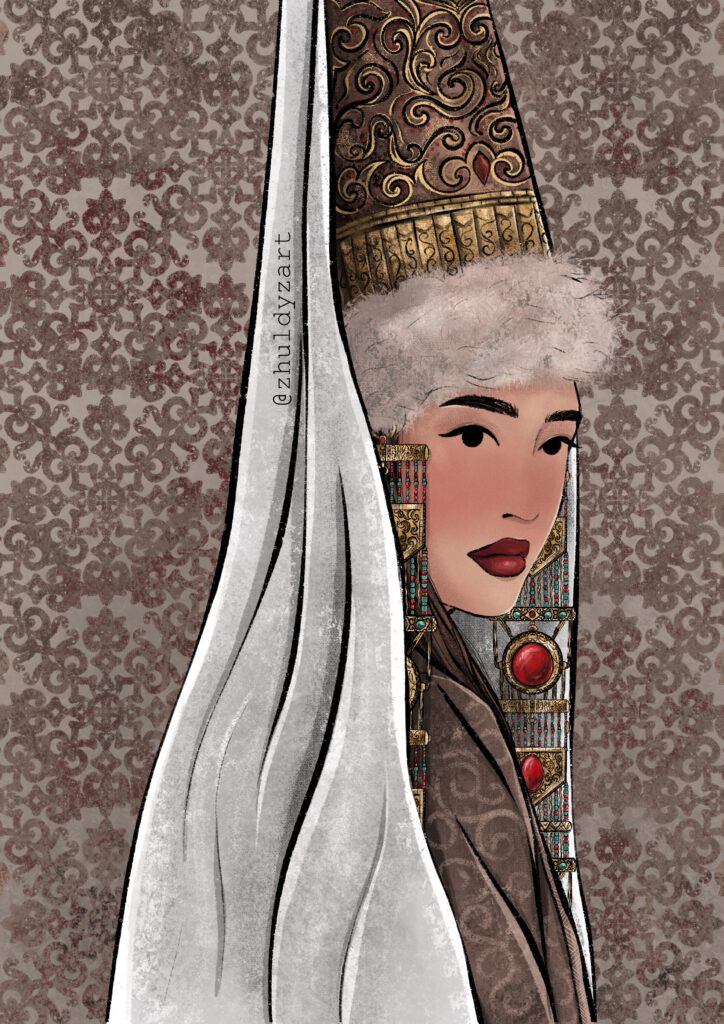 Info Shymkent: The girls which you are painting are they a real person? Or are you painting from your imagination?
Zhuldyz: Art is always an inspired work. It's a combination of inspiration + own idea. Before I started to draw something, I spend 2-4 hours in research. What about the girls, some of them are bloggers, influencers, singers and models. But the clothes, accessories and even some portraits I paint from my imagination.
Info Shymkent: As I think every artist creates something with a deep meaning. And the question for you: Do your paintings have a hidden message, purpose or meaning? Why are you painting only Kazakh Girls with national accessories? Do you want to tell something via your paintings?
Zhuldyz: Really good question. Art is a form of communication between author and audience. Through the Art I express my feelings, thoughts and skills. And yes, my artworks have a meaning and purpose. The purpose of my artwork is to show the background history of my country. I want to show to the world how incredible the Kazakhstan culture is. My message to my audience is – we are living in modern world, and we have to remember our history and culture. First of all, in my drawings I show the balance between Kazakh historical culture and modern world. We have such beautiful accessories and garments which the people have worn hundreds years ago. We can use our old national clothes, accessories and patterns by wearing them in fashion world. Our traditional clothes and accessories can be suit in any century! It's a type of trend that will never die. You can wear national earrings, necklaces, rings and many other jewelleries with any nowadays' fashion garments.
This phrase sum it up: Never forget where you come from!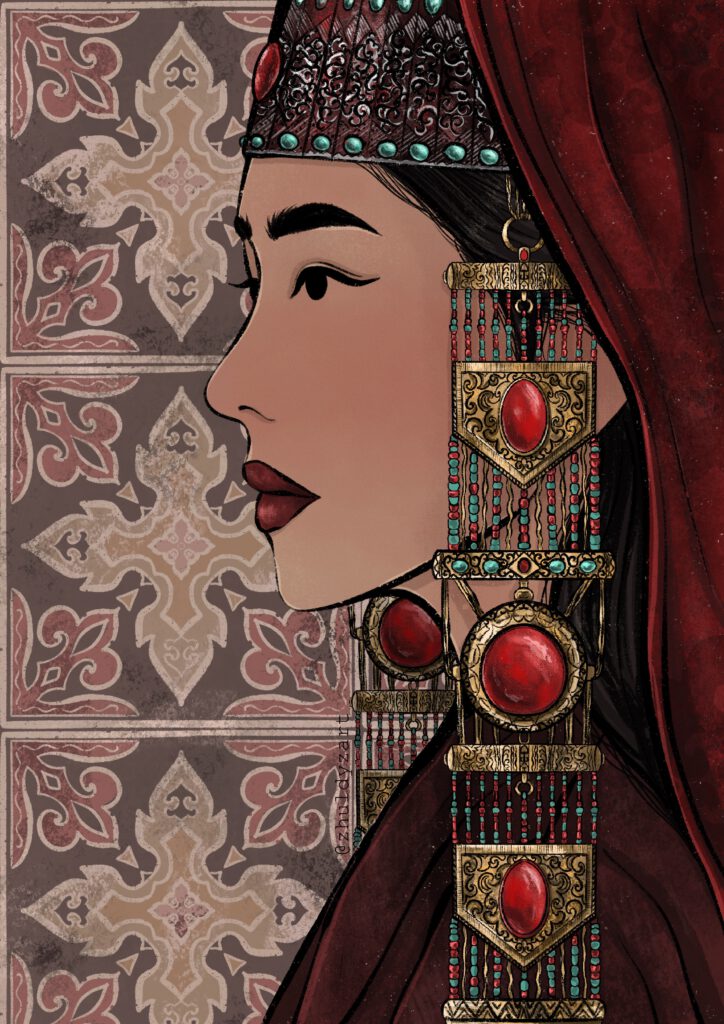 Info Shymkent: Where do you get the inspiration from? Do you visit special places to get an inspiration?
Zhuldyz: Inspiration is all around you. I seek it from all sorts of sources. My artistic inspiration comes from my own life.
What about how I get the inspiration: by being in nature, walking in the park, going to exhibitions, spending time with family and relatives, listening to music, reading books, researching other artists, going to the theater, museum, arts galleries, finding ideas from social medias such as Instagram, Pinterest, traveling, inspired by emotions and feelings, art and fashion magazines, looking at different buildings, clothes, watching movies. I literally can get idea and inspiration from everything. It's limitless! *Haha*
Info Shymkent: How Covid-19 affects your work?
Zhuldyz: The Virus is changing the way of working and living of everyone. But, personally, the Covid-19 pandemic didn't make any big change in my art life. As a freelance digital artist, I work from home.
Info Shymkent: What's the advice you would like to give for beginners who wants to paint like you?
Zhuldyz: Drawing is a skill which develops and improves as you practice. Every artist started from no experience. You just have to start drawing and never give up. It is hard to beat a person who never gives up.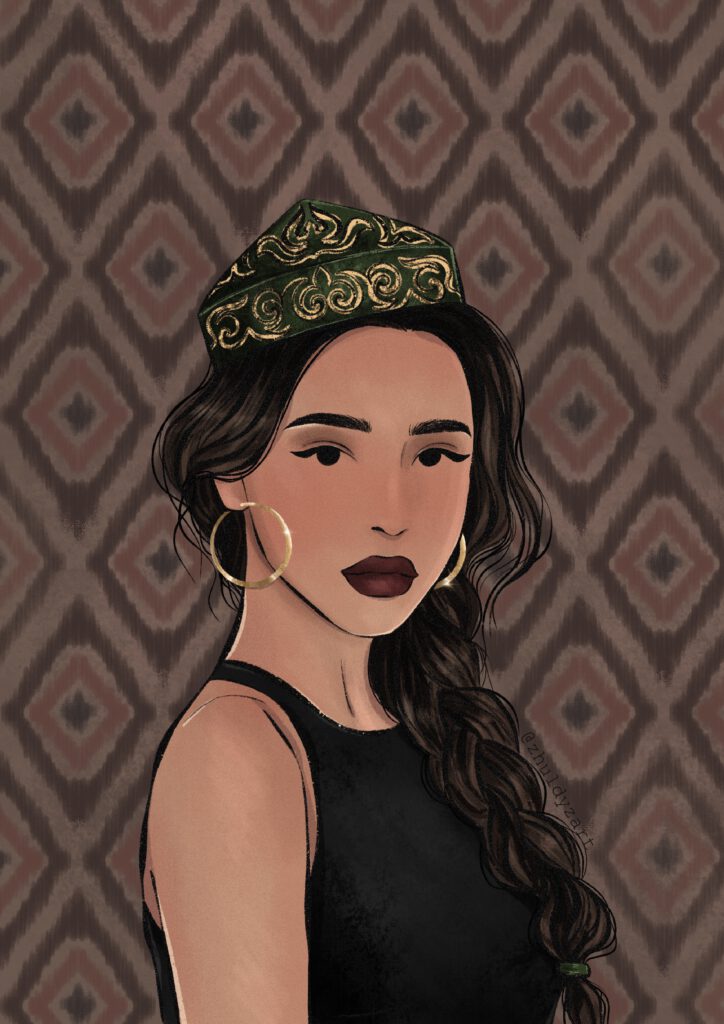 You can learn from different things like observing and researching other artist's drawing, watching some tutorials on YouTube and learning from art books. In art journey you have to be very patient. Because the only source of knowledge is experience. Just keep drawing and learning. Practice makes perfect. And the one of the most important advice for beginners is to not compare yourself with other artists. When you compare yourself with other professional artists, it can drain you emotionally. Everyone is special and unique. So never compare yourself.
I cannot say that I'm a professional artist. I'm still learning. Every day I try to work harder, I always try my best to improve my art skills. Sometimes it's difficult to work non stop, it's okay to take break from work time to time.
I wish to all the beginners good luck!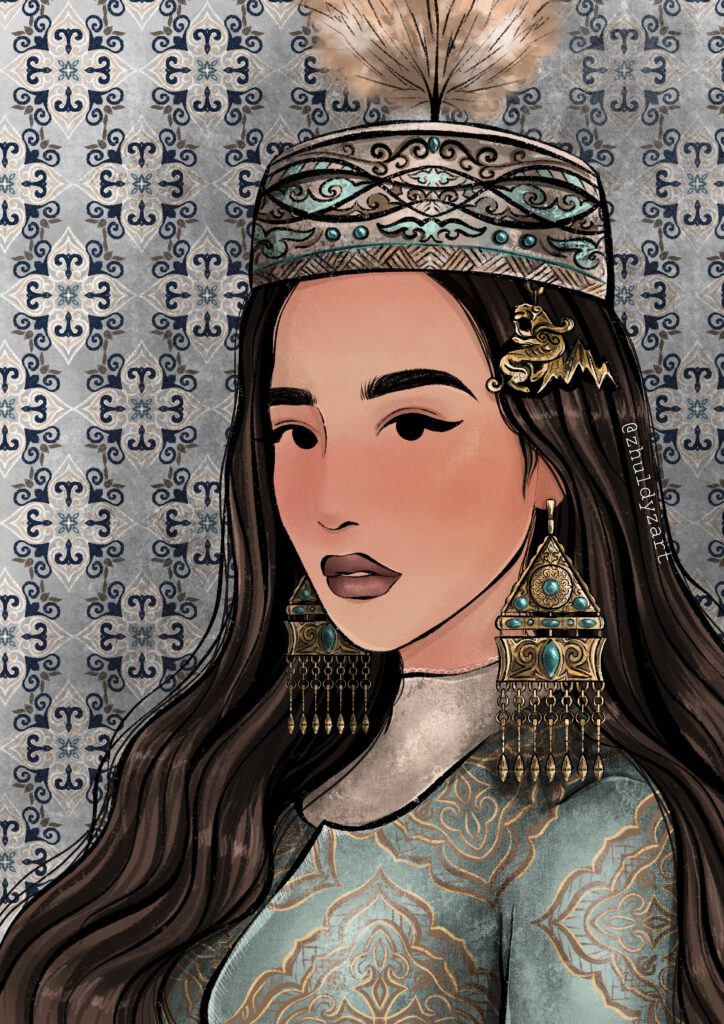 Info Shymkent: What plans do you have for the future?
Zhuldyz: I have so many plans and goals to achieve. One of my biggest goal is to open my own Art Gallery. Having my own big Art Studio, and of course one of the main goal is to travel the world. – Thank you!
Info Shymkent: Thank you very much for the wonderful interview, too. And we wish you, Zhuldyz, success and good luck – and we hope that one day you open your own art gallery and studio!
You can follow young Painter Zhuldyz Zholbarys on Instagram: