Freddy: I think my love for music started even before I was on this planet!
Singer and songwriter Spencer Emanuelle Goodman – well known as Freddy – is a new music star with powerful voice. Info Shymkent is glad to make interview with her.
Spencer Emanuelle Goodman – Freddy – is pop and country musician, singer and songwriter from sunshine state California. Her first single "After The Rain" went popular in short time and having a huge audience around the world. Info Shymkent is happy to make an interview with her!
Info Shymkent: How are you, Freddy?
Freddy: I'm good thank you! Thank you for having me. How are you? Crazy, intense times we are living through right now, but I'm keeping my spirits high.
Info Shymkent: Where are you now? Are you on tour or in vacation?
Freddy: I am home right now! I live in Los Angeles, California and our state and much of the country is under the Safer At Home quarantine lockdown so I'm listening to our health care professionals and staying inside to hopefully slow the spread of this virus.
Info Shymkent: How you became singer?
Freddy: I have been singing since I was very little. Probably 4 or 5. My dad's in the music industry so records were always playing in my house growing up. Although I think my love for music started even before I was on this planet! My mom would go to concerts with my dad all the time when she was pregnant with me, so I'm pretty sure I just soaked everything up in utero. Haha. God is who put the dream on my heart I believe, so I think I've always just known music would be my path. I was a pretty shy kid, so I didn't pursue it professionally until my twenties, but now here I am!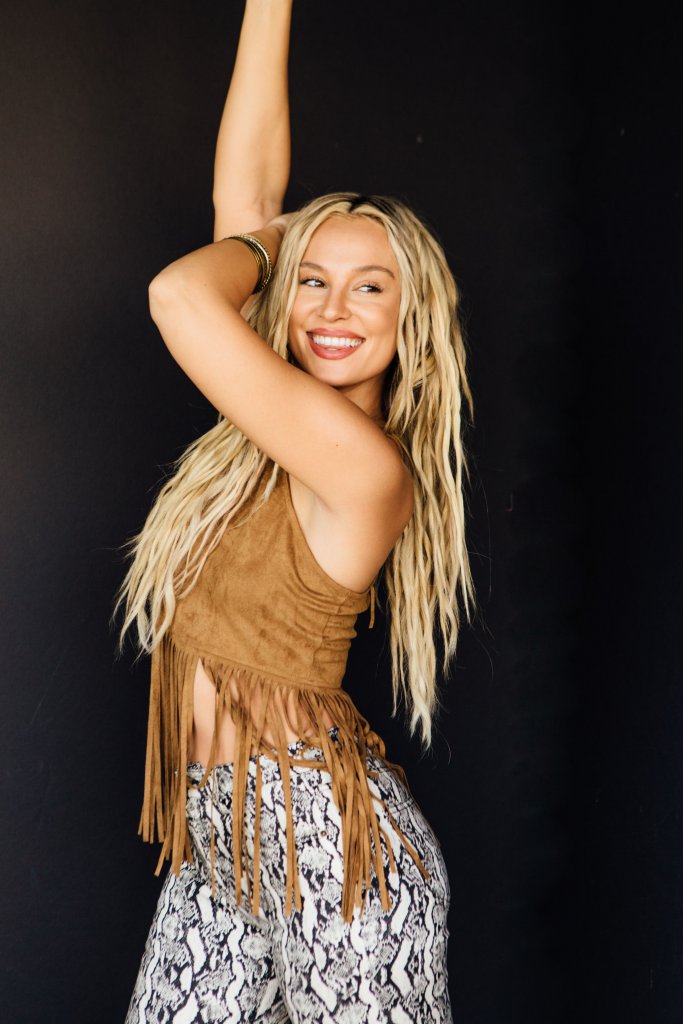 Info Shymkent: Can you describe a little about your daily work?
Freddy: Each day is different! Sometimes I'm just in my room writing alone, and getting ideas out. Sometimes I'm in a session with a couple writers and a producer and we start and finish a song in 5 hours. Sometimes I go days without writing a single thing so I immerse myself in other creative activities like coloring, or dancing or just finding ways to free up my mind. I've been in the studio a lot the last few years creating so much music, that now I'm trying to perform more. If I have a show coming up, I'll be in rehearsals with my band, or if I have a song coming out, I'm working on creating art work and imagery that enhances my music. I'm not signed to a major label at the moment, so I'm manifesting a deal to come my way this year! Keep your fingers crossed for me! I try to meditate everyday for at least 30 minutes and that allows a certain clarity I feel I need to approach my work and every day. Songwriting and making music is so honest and vulnerable so I think it's important to really crack your heart open, and try to really tune into who you are and what you want to say. Authenticity is so crucial. Not only in the work that artists and songwriters do, but in almost every field.
Info Shymkent: What's your current music project?
Freddy: I have released two singles so far this year. "After The Rain" in January, 2020 and "Tailgate Holiday" last week, March 27, 2020. I have another single coming out on Memorial Day in May, and a whole bunch more by the Fall! I hope you enjoy them.
Info Shymkent: Are you making concerts? Do you have a plan to make concerts outside of USA – for example in Kazakhstan?
Freddy: I would love to tour outside of the US. That would be a dream! At the moment, everything feels as though it's on pause. I had a few shows scheduled in California, that are now postponed due to the Corona Virus, but I hope to have them rescheduled whenever it is deemed safe! I would love to play for you in Kazakhstan someday real soon! Let's manifest that too!
Info Shymkent: Is corona virus interrupting your work?
Freddy: Yes! But I think it's interrupting everything for everyone right now! I'm still singing around the house, and coming up with new song titles, and ideas for future shows, sending emails, etc so there is definitely stuff to do! But I do think it's a great time to reset and recharge and just slow down. It's like the Universe is asking society to do so as a whole right now. Gotta lead with love right now. We're all in this together.
Info Shymkent: Thank you very much, Freddy! We wish you full of energy that you can achieve your goals and surprising your fans with nice songs. And also we wish you success for your upcoming singles. Stay healthy and safe!
P.S.: You can listen to Freddy's Music on Spotify and SoundCloud: