You want to make a delicious salad for your family or friends? What do you think about the popular Olivier salad!
Ingredients you need to make Olivier salad:
7 potatoes
200 grams turkey sausage
400 grams mini carrots and peas
75 grams mustard pickles
150 grams mayonnaise
4 hard cooked egg
Some dill
Peeling the potatoes first and put them in cooking salty water. They have to cook some minutes to become soft. If you can't find hard cooked eggs. Start to cook four eggs in salty water, too.
In the time of cooking potatoes you can cut the turkey sausage into cubes. Also take the small mini carrots and cut them into slices.
Take the hard cooked eggs and cut them into pieces, too.
After the potatoes are ready cooked, you have to put them out of the water and cut them also into small pieces. And of course – don't forget to cut the mustard pickles into slices.
Now you can start to mix all ingredients in a huge bowl. Put the mayonnaise into it and mix, again. Check if the meal is tasty or need a little bit more salt.
Put the salad into the fridge that the salad can cool down and you can serve it fresh for an hour.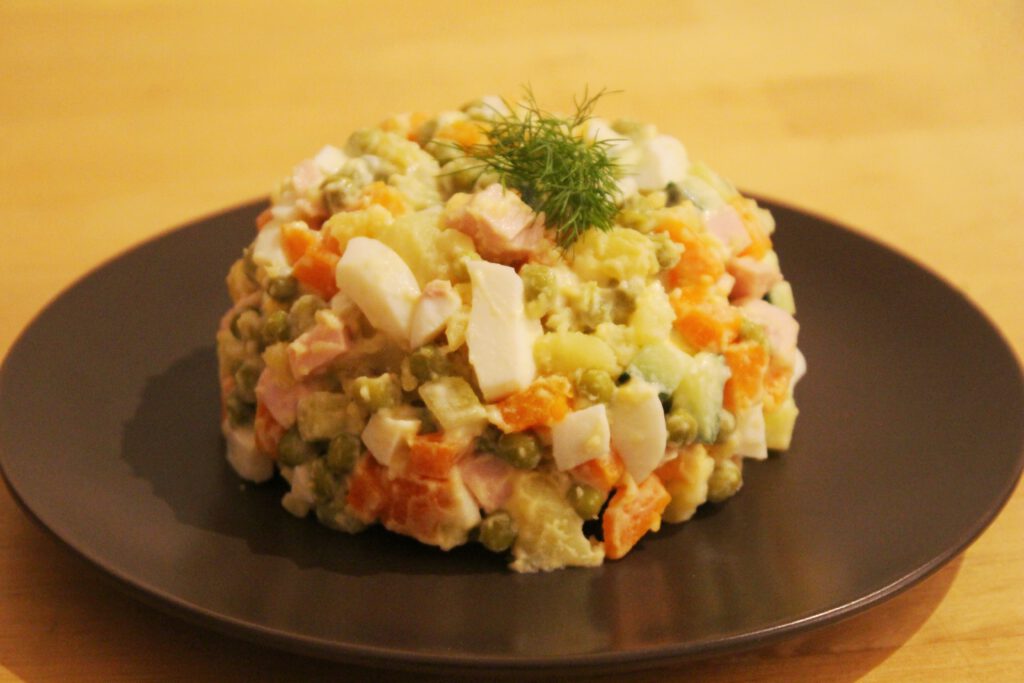 You can serve the salad to your friends and family, now. If you want you can put a little bit dill on top of each salad cup.
Enjoy the finished dish and the dinner. Bon Appetit!
Read more about the Salad: https://en.wikipedia.org/wiki/Olivier_salad