Alexandr Misko – The master of the guitar strings
The musician Alexandr Misko inspires people around the world with his fresh and crazy fingerstyle guitar play. We made an interview with him.
Alexandr Misko from Russia is THE upcoming Acoustic Guitarist star in the world. He got the Award Acoustic Guitarist of the Year in 2018 and made a world tour last year. The busy guitar talent found time in his full calendar to make an interview with us.
Info Shymkent: How are you, Alexandr?
Alexandr: Hello, thanks a lot for asking, I've been doing well and just trying to get the best out of the situation we're all in now. Hope you guys have been safe and healthy too! It's a big pleasure and privilege to have a chat with you for your online magazine.
Info Shymkent: Where are you now?
Alexandr: I'm staying at home in my hometown Krasnodar which is located in the very south of Russia, not too far away from Turkey and the Black Sea.
Info Shymkent: Can you describe a little bit about your daily work?
Alexandr: My daily work used to be way more structured before the pandemic since I was touring a lot and at the same time was recording music for my albums and videos for YouTube.
It has never been easy to stay effective and productive no matter what, but it's a exciting challenge that really helps me to get better as a musician and as a person in general.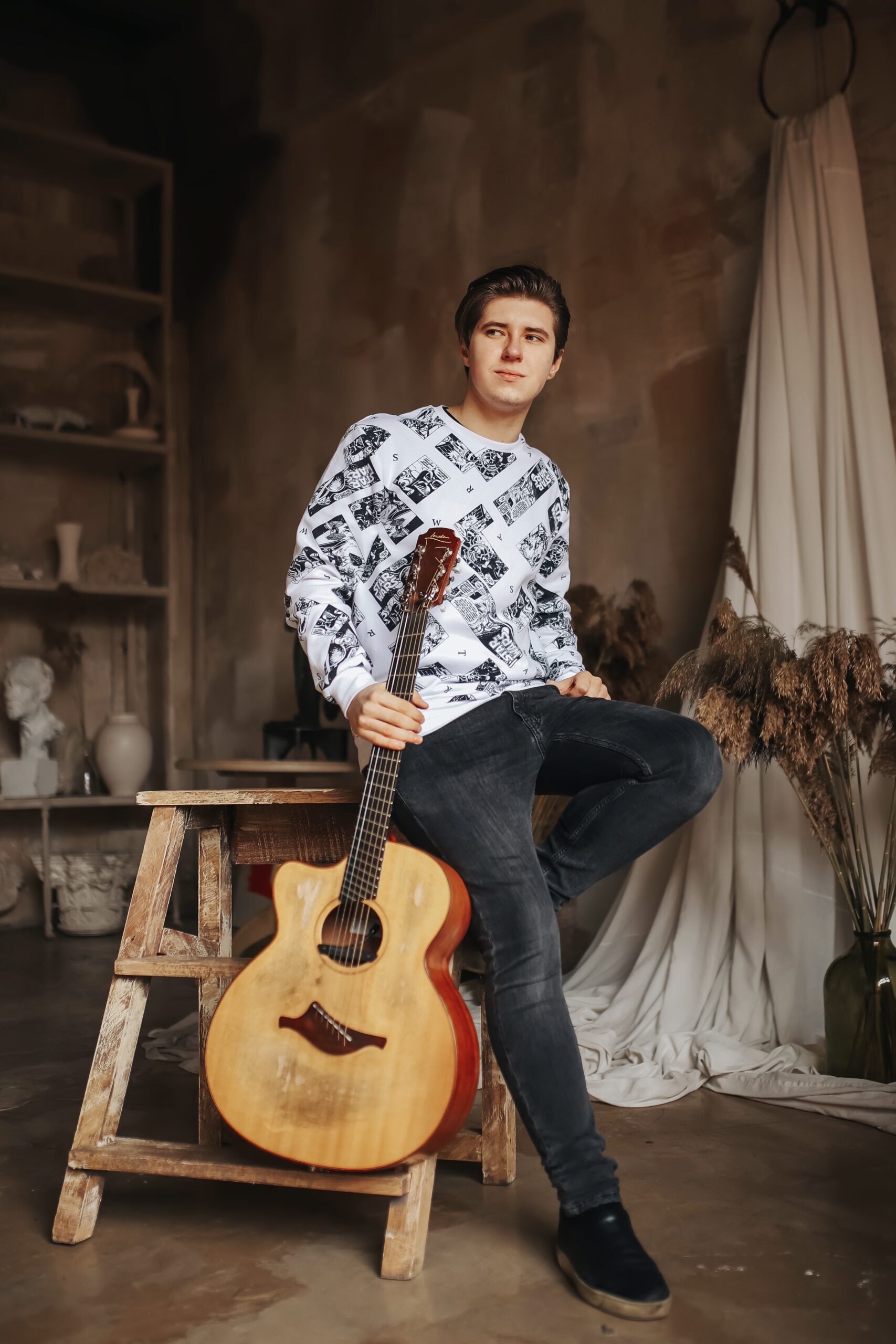 Nowadays things have changed, I'm so tired of playing instrumental music so I finally became a rap artist. *Laughing*.
But on a serious note, I'm still playing lots of guitar of course, but finally trying out lots of new ideas that I never got to do before when I was busy touring, like combining rapping with fingerstyle guitar playing.
Also self-education is important for me as well, especially when it comes to something other than music. I live and breathe music but there are so many other amazing things in the world to explore so this quarantine season gives me enough time to go deeper into some scientific books and lectures that I've always been interested in.
Info Shymkent: What's your current Music Project?
Alexandr: I've released four albums of instrumental music so far so I'm slowly getting tired of this. Surprisingly rap now has become such an amazing breath of fresh air for me so probably that's what I'm gonna be doing for a while.
I don't have any big projects in the pipeline, I'm just keep releasing new music to make people happy during these hard times and looking forward to get back on the road again because playing live is my true passion.
Info Shymkent: Why did you choose Music way?
Alexandr: I've always loved music and even used to construct some DIY-guitars made out of newspapers, sticks and tape when I was a kid. I never had any big hopes or ambitions about becoming a professional artist and that's why even my bachelor's degree is linguistics.
But then things started to grow naturally and slowly I got to the point where I am now. I'm really glad to share my music with people and to have fun on the way, because that's what being a true musician is all about, it's not about fame or money or whatever.
It's a humbling experience and I've never thought I would come so far, so I'm thankful to everyone who supports me on this journey.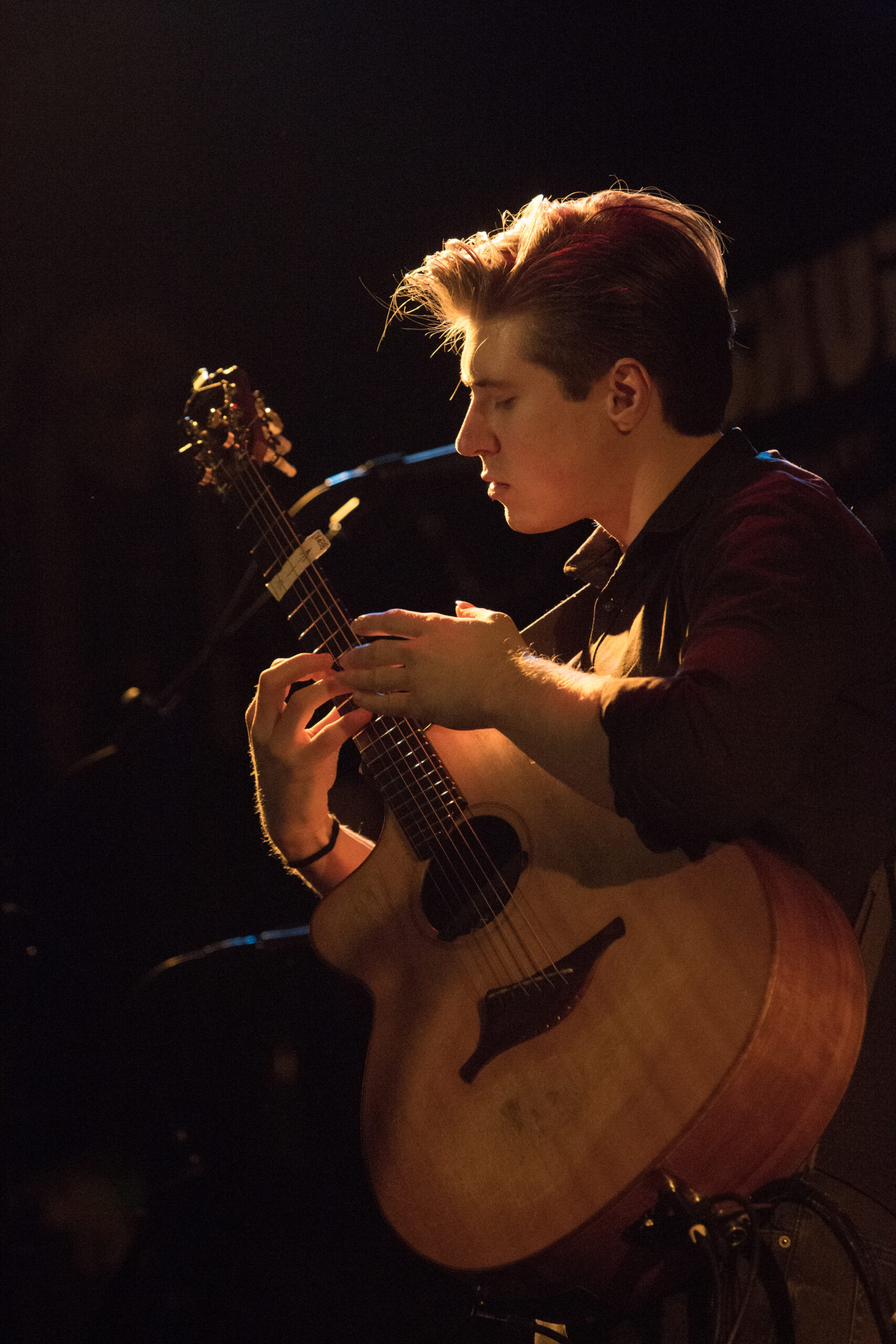 Info Shymkent: Who's your favorite guitarist? Who or What did inspire you to be a Guitarist?
Alexandr: I've got so many inspirations throughout all those years that it would take too long to mention all the names, but some of the very important ones are Don Ross, Jon Gomm, Thomas Leeb, Preston Reed, Mike Dawes, Adrian Legg and many others.
All these guys are geniuses of fingerstyle guitar and they've always been inspiring me to compose and practice like crazy.
Though it's crucial not to get stuck in the same genre or type of music forever so I hardly ever listen to guitar music because there's so much to explore and get inspired from beyond that.
I'm trying to be a musician, not just a guitar player, though guitar still seems to be the most effective instrument to realize most of my ideas, and that's why I'm so attached to it.
Info Shymkent: What are you doing to relax after hard work?
Alexandr: I love to do fitness and I think if it's not for music then I would become a fitness coach. *Laughing*.
I love reading about all sorts of scientific stuff, video games is another passion of mine, though I don't have that much time for it.
And of course my all-time favorite thing to do is to pointlessly scroll my Instagram feed.
Info Shymkent: What was your greatest moment in Life?
Alexandr: Most of the memorable moments for me happen on the road and something that instantly pops up in my head is all the meetings with my inspirations, especially when it happened for the first time.
I will never forget when I finally got to see Jon Gomm, Mike Dawes and Thomas Leeb playing live and talking to me in real life after so many years of internet communication.
Things like that made me cry of happiness and i'm honored to call them my friends now.
Info Shymkent: Would you like to make a concert in Kazakhstan?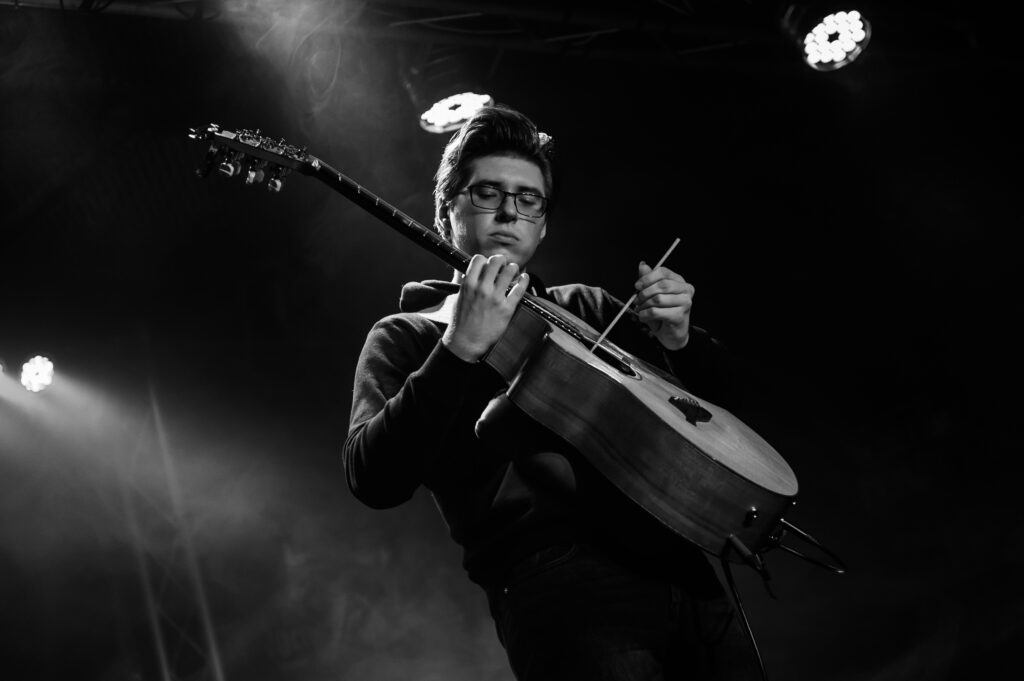 Alexandr: Of course I would love to, sadly I've never been to Kazakhstan yet but I have some great friends there.
Such a beautiful country and actually quite close to my hometown too!
Info Shymkent: Is Coronavirus interrupting your work?
My music life got affected because of the virus no doubt, but there is no sense in complaining about this. I'm staying positive no matter what and believe that we're gonna overcome all the obstacles soon enough if we care for each other.
Spread love, not concerns.
Info Shymkent: You are absolutely right, Alexandr! It was great to have an interview with you and we wish you good luck, rising success and all the best for the future. We hope that we can see a live concert with you after corona crisis again.
Follow, Listen & Watch Alexandr Misko: