Pushing on – a talk with musician Tyler Thompson
Musician Tyler Thompson and his WeareLight produced with "Pushing on" a summer hit. We talked with him about the song.
Multi talent Tyler Thompson is from the Sunshine state California in the USA and started with his first single under the band project WeareLight a success. Info Shymkent had luck to talk with him about how he started his music career, his style and of course his song Pushing on.
Info Shymkent: Hello Tyler. How are you? Where are you now?
Tyler: Hello! An absolute pleasure. I am quite well! Gearing up to release my newest single in a couple of weeks. These days, I split my time between New York, and California respectively.
Info Shymkent: Tyler, can you introduce yourself a little bit? How did you become a musician? Was it your childhood dream?
Tyler: I became a musician, in my Soul, when I was 9 years old. I remember the moment vividly. I was at my Great Uncle Jimmy's house in San Diego visiting and exploring his house, as I would usually do at that age, and I stumbled upon an album called Somethin' Else by "Cannonball" Adderly. I had never heard anything like that album, and right then and there I decided music is what I wanted to feel like, all the time.
Info Shymkent: Can you tell us about your music style?
Tyler: I approach music and songwriting, by incorporating the various rhythms and styles reflective of my heritage and upbringing. I take a little bit of Soul, add some Classical sweetness, maybe some traphouse Spiciness and try to make sure its mixing and tasting wonderful. I love authentic and natural sounding instruments. When I listen to my tracks, I try to imagine what the band plays and looks like. What their personalities would be, and how that would translate into their respective playing style.
Info Shymkent: As we know you are not only a musician and also producer and songwriter. Did you write the text of your single Pushing on?
Tyler: I write with a partner, Conan Mac when it comes to lyrics. We bounce back and forth until it sounds right, and rock from there. Pushing On is about Love. How hard it can be, and how wonderful at that same time.
Info Shymkent: How was the reaction of the audience when you published the music Pushing on? And is it your first single?
Tyler: There has thankfully and gratefully been a wonderful response to this track! Pushing On is the first track in which I personally contributed the vocals, alongside instrumental arrangements.
Info Shymkent: Covid-19 is disturbing the whole world's economy. Is Covid-19 affecting your work?
Tyler: Absolutely, and quite deeply. We are the music makers, you know? States here in the U.S. are now banning any and all ticketed music and entertainment events. At the same token, more music has been made in the past six months, than the past two years. New artists are emerging, and this pandemic is making for great material to reflect the state of our world.
Info Shymkent: Do you play a musical instrument? If yes, which musical instruments do you like to play?
Tyler: I do! I play mainly Piano/Keys, I also play guitar, bass, percussion, Alto Sax and dabble a bit with drums. Music has shown me that all living things connect, and music is as alive as it gets.
Info Shymkent: Who inspired you to choose the way of Music?
Tyler: I was given the mindset of "I can do this," by my Dad. Although not a musician, he had a bass, and taught me this basic blues lick when I was around ten years old. From that point, I would always imagine playing alongside my favorite bands and artists. That would drive my passion to pursue music greatly.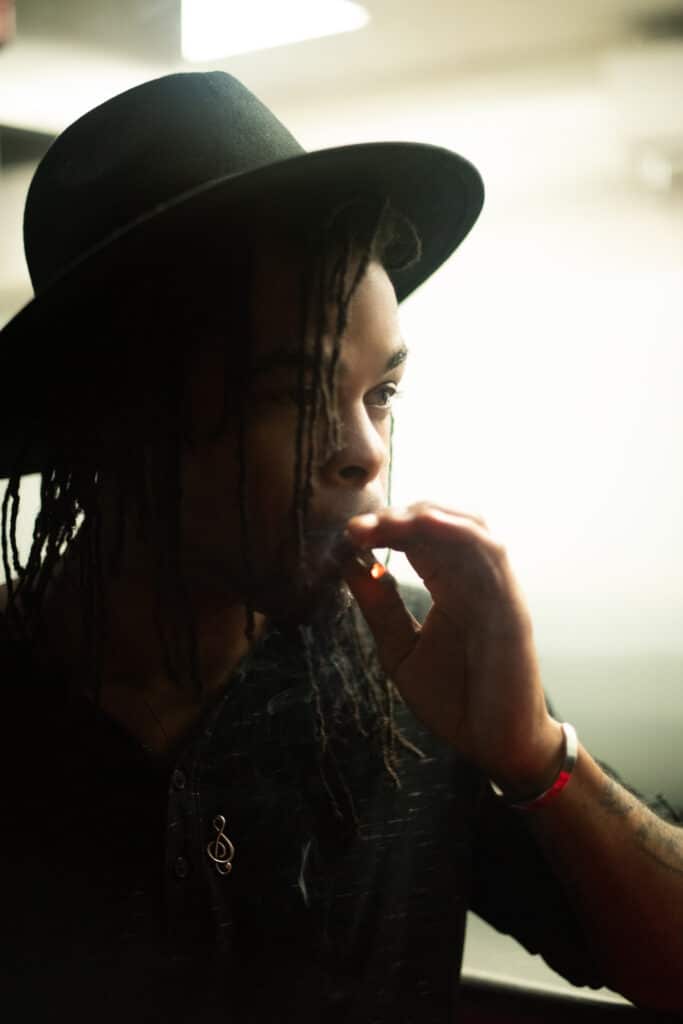 Info Shymkent: Are you making concerts? Do you have a plan to make concerts – for example in Kazakhstan?
Tyler: I would LOVE to play in Kazakhstan. But due to the pandemic restrictions, we are all continuing to write and progress on individual and personal levels. Next year is a different story hopefully!
Info Shymkent: What plans do you have for the future?
Tyler: Currently, releasing my new single is paramount. I plan to release a physical EP here this autumn, as well as a small clothing line.
Info Shymkent: Thank you for this nice talk, Tyler. We wish you continuing success – also with your new projects and Stay healthy! Maybe we see us in Kazakhstan.
You can follow Tyler Thompson and WeareLight in Social Media: