ISS: 20 years human presence in space
Since 2000 people living permanent at International Space Station. It's time to look back on 20 incredible years of human presence in space.
20 years ago was a historical moment 400 km above our heads. A Russian spacecraft Soyuz TM-31 docked at 09:21 UTC to the International Space Station. After 90 minutes the three crew mates of Soyuz spacecraft William Shepherd, Yuri Gidzenko and Sergei Krikalev opened the hatches between spacecraft and space station. Since this moment humans live without an interruption in space. Info Shymkent wants to celebrate this moment with a collection of the best moments of 20 years humans onboard the International Space Station.
11 March 2001: The longest space walk in history with 8 hrs 56 min, was achieved during a spacewalk of James Voss and Susan Helms for further assembly of the station.
30 April 2001: The first space tourist Dennis Tito arrived the International Space Station. He paid $20 million to stay 7 days in space. After Dennis Tito six other tourists went to the station: Mark Shuttleworth, Gregory Olsen, Anousheh Ansari, Charles Simonyi, Richard Garriott and Guy Laliberté. The next popular guest at the space station will be Tom Cruise in 2021 to produce some scenes for a new Hollywood movie.
19 April 2002: Jerry Ross visited humankind's outpost in space and finished it's 7th spaceflight. That's a current record.
10 August 2003: The International Space Station is also a Wedding palace. Ekaterina Dmitriev and Yuri Malenchenko was the first couple who married in space. But it's not as it sounds: Only Malenchenko was in space. His wife was in Houston, USA and the married via video conference. It would be interesting if the space station will see a real wedding with both spooses in space.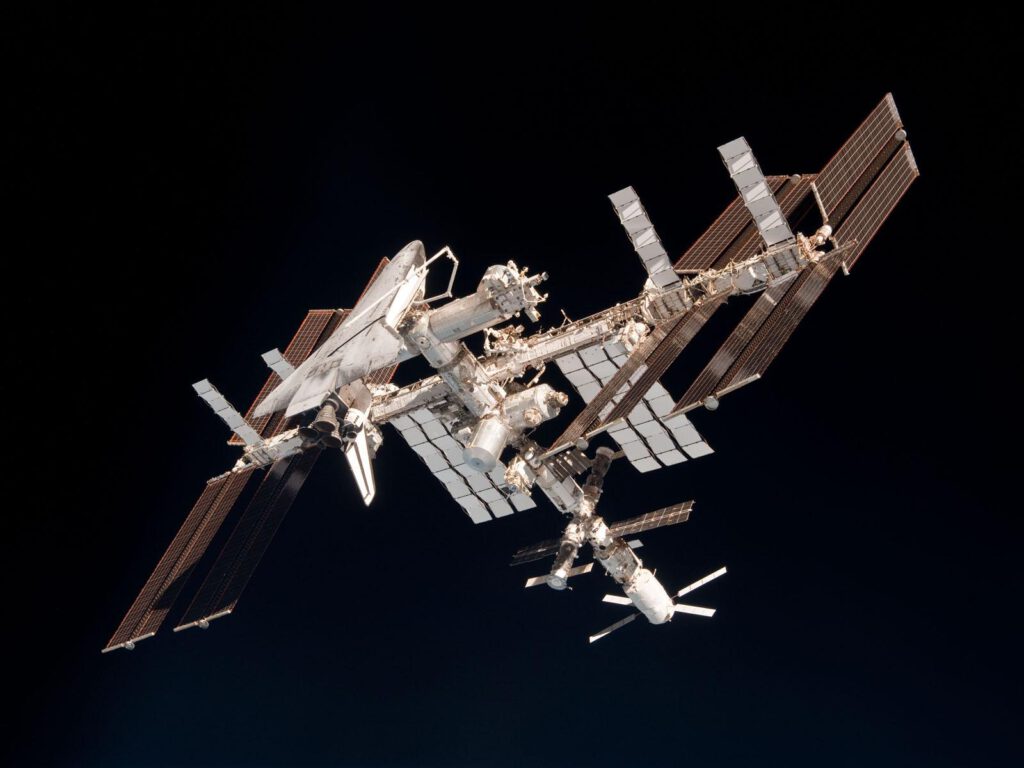 12 November 2005: Ex-Beetle singer Paul McCartney sent a wake-up call (traditional music wake up song at the beginning of a space mission day) to astronauts Bill McArthur and Valeri Tokarev on the International Space Station. This wake-up call was live during McCartney's concert in Anaheim, USA. He played for the space crew English Tea and Good Day Sunshine.
28 March 2009: Tourist Charles Simonyi arrived at the International Space Station – again! He first went to space station as tourist in April 2007. He is still the first and only tourist who flight multiple times to the station.
17 July 2009: On this day the space outpost was crowded. 13 people lived in the space station and three docked spacecrafts: Soyuz TMA-14, Soyuz TMA-15 & STS-127 with Space Shuttle Endeavour. That is a record so far.
5 April 2010: For the first time four women were in space at the same time. Tracy Dyson was a Expedition 23 & 24 member for a long duration stay in space. Dorothy Metcalf-Lindenburger, Stephanie Wilson and Naoko Yamazaki were guests and arrived by a Space Shuttle Discovery (STS-131).
23 May 2011: This day was the biggest photo stunt in human spaceflight. The russian spacecraft Soyuz TMA-20 undocked from the International Space Station. Before the spacecraft went to earth they used the opportunity to make pictures of the station with a docked Space Shuttle. During Paolo Nespoli – inside of Soyuz TMA-20 – made pictures of the station the football-sized space station made a rotation of around 129 degrees to provide best views of humankind's colony in space.
25 May 2012: That was a big day in commercial spaceflight: A private unmanned spacecraft – SpaceX's Dragon cargo capsule arrived at the station. They was one year and four months faster then there competitors Orbital Sciences with their Cygnus spacecraft.
12 May 2013: The first viral YouTube hit was published on ISS. The Canadian astronaut Chris Hadfield wrote and performed his song Space Oddity on the International Space Station. Close to 48 million people watched this music video.
29 June 29 2013: One music event after another – Italian astronaut Luca Parmitano took part in a concert by French musician Didier Marouani and his band spAce playing in Moscow's Luzhniki Stadium. Parmitano played on the keyboard for the song Magic Fly.
12 September 2015: Another record for human spaceflight. Gennadi Padalka set record in spending most time in Space with 878 days. It's longer than a planned flight to Mars.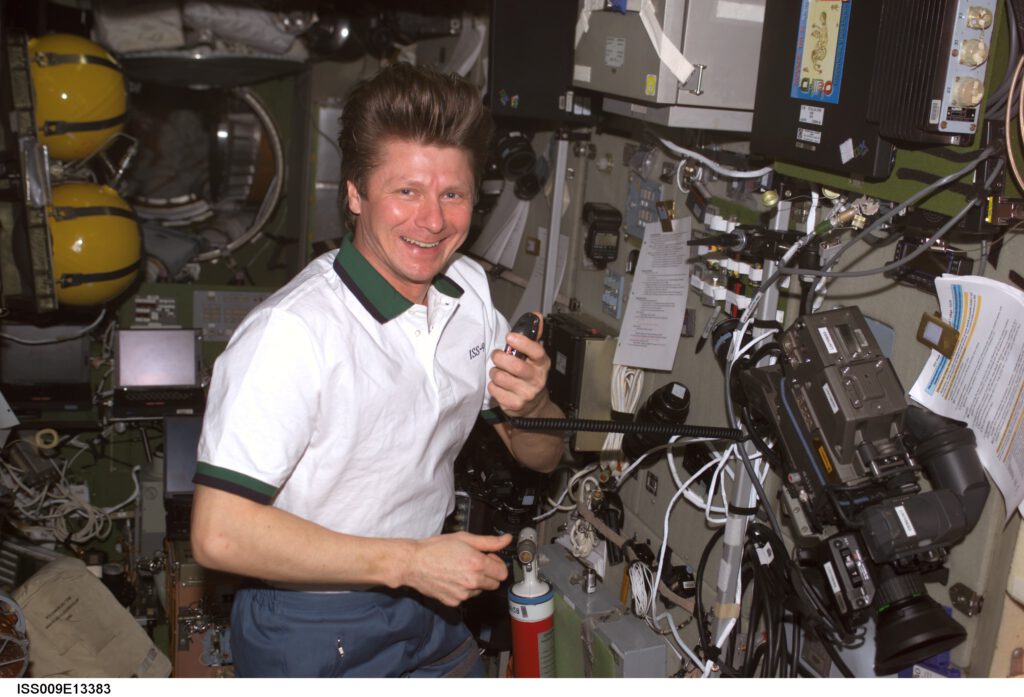 2 March 2016: The longest long duration flight on ISS was set with 340d 8h 43m by Mikhail Kornienko and Scott Kelly. We had the opportunity to speak with Cosmonaut Kornienko this summer abouth his experiences. The longest long duration flight is still from 1995. It was set by Valeri Polyakov on Russian Mir station with 437.7 days in space.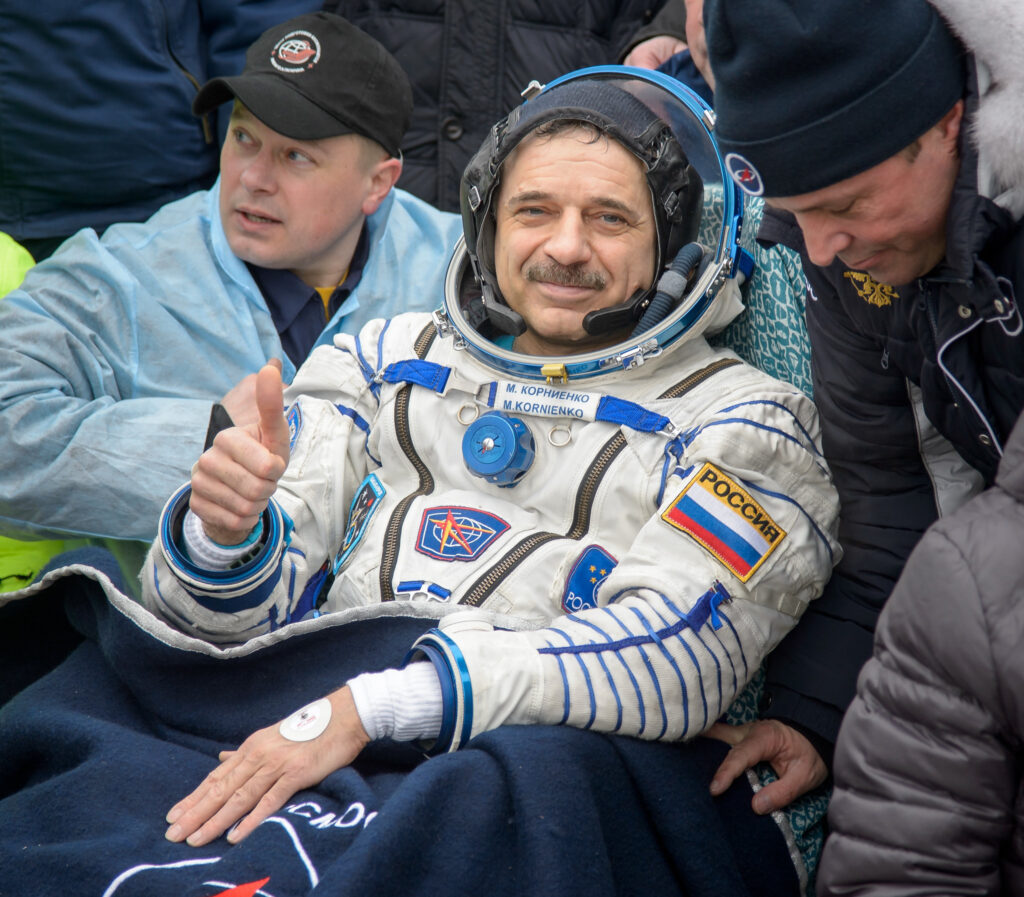 8 April 2016: First private module deployed Bigelow's BEAM
3 September 2017: Peggy Whitson finished its spaceflight this day and set a record for women in spending most time in Space with 665 days. This is also the American record!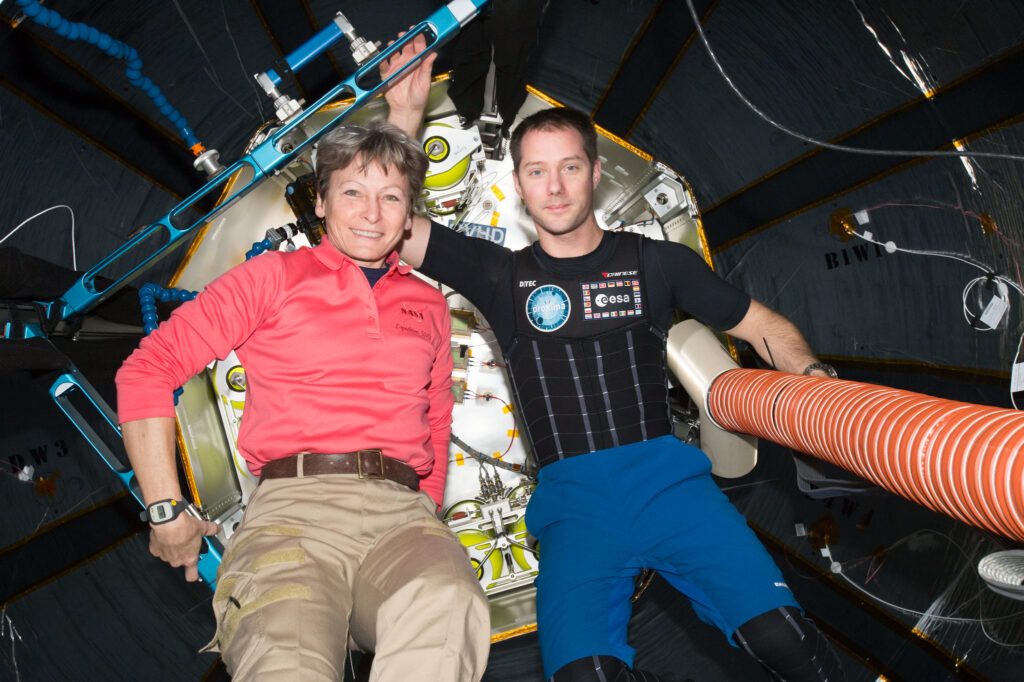 9 July 2018: The International Space Station is like a space harbour. Everytime spacecrafts are docked at the station. But it was never busy as this day: Six spacecrafts were docked – 1x Dragon, 1x Cygnus, 2x Soyuz and 2x Progress.
18 October 2019: The world waited for this day. After the first man – Alexei Leonov – walked in 1965 into space, mankind waited another 55 years for this moment: The first all female space walk was performed by Christina Koch and Jessica Meir.
6 February 2020: Another female record in space with Christina Koch. She sets the longest long duration flight record for woman to amazing 329 days.
31 May 2020: First private manned spacecraft SpaceX Crew Dragon arrived.
This was our collection of incredible 20 years of humankinds outpost in space. 19 different nations with 241 persons visited the International Space Station so far. One of the people visited the station multiple times. But we already know that we can't see another 20 years of the space station. The future is uncertain after 2024. There are already discussion to extend the life to 2028 – also as a commercial space station maintained by Axiom Space and Russia. Let's see!
But first concratulations to the ISS for this incredible achievement!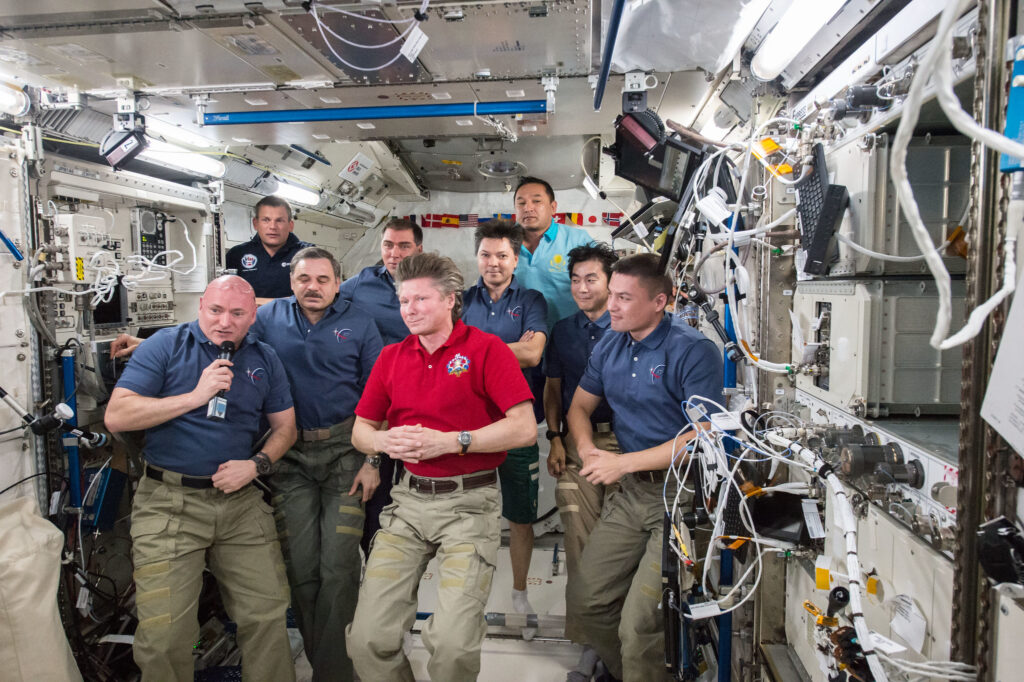 More informations about the International Space Station: https://www.nasa.gov/mission_pages/station/main/index.html