Interview with Kazakh painter Aisulu Almasbayeva
1st interview in 2021: Painter Aisulu Almasbayeva – a talented artist who is making beautiful illustrations for children books. Info Shymkent made a nice interview with her.
Info Shymkent: Hello Aisulu, how are you? Where are you now?
Aisulu: Hello, everything is nice. I am in Kazakhstan's capital Nur-Sultan (former Astana). But my thoughts are in the interesting fantasy places.
Info Shymkent: Happy New Year, Aisulu! How did you celebrate the holiday, especially during Covid-19 pandemic?
Aisulu: Thank you, I had a good celebration with my family. We also managed to make a wish at 12:00 p.m. too. In fact, Covid-19 did not make any affection to the celebration – except for the large annual fireworks in the capital.
Info Shymkent: Aisulu, in which region were you born?
Aisulu: I was born in Kyzylorda. I grew up in that area until I was 17 years old.
Info Shymkent: Was painting your childhood dream? How did you come to the world of art?
Aisulu: When I was four years old, I noticed that in kindergarten I draw better than other children. From that moment I knew who I am. My mother was against me becoming an artist, but my father always supported me. He provided me with all the necessary materials and supported me to go to an art school. I finished school well. I remember my sister's question: "Aisulu, you graduated from this school well. You know a lot. Why did you choose fine art? Why you didn't choose a better profession?". I told her that being an artist is like knowing all the professions. You don't know what the subject you will paint in your life, what, where and when. But you must to paint correct and beautiful. For example my last painting project was connected with the field of music. I can say that before the end of the project I became a music specialist! I love my profession. As the philosopher Confucius said: "Choose a job that you enjoy, so you don't have to work a single day in your life."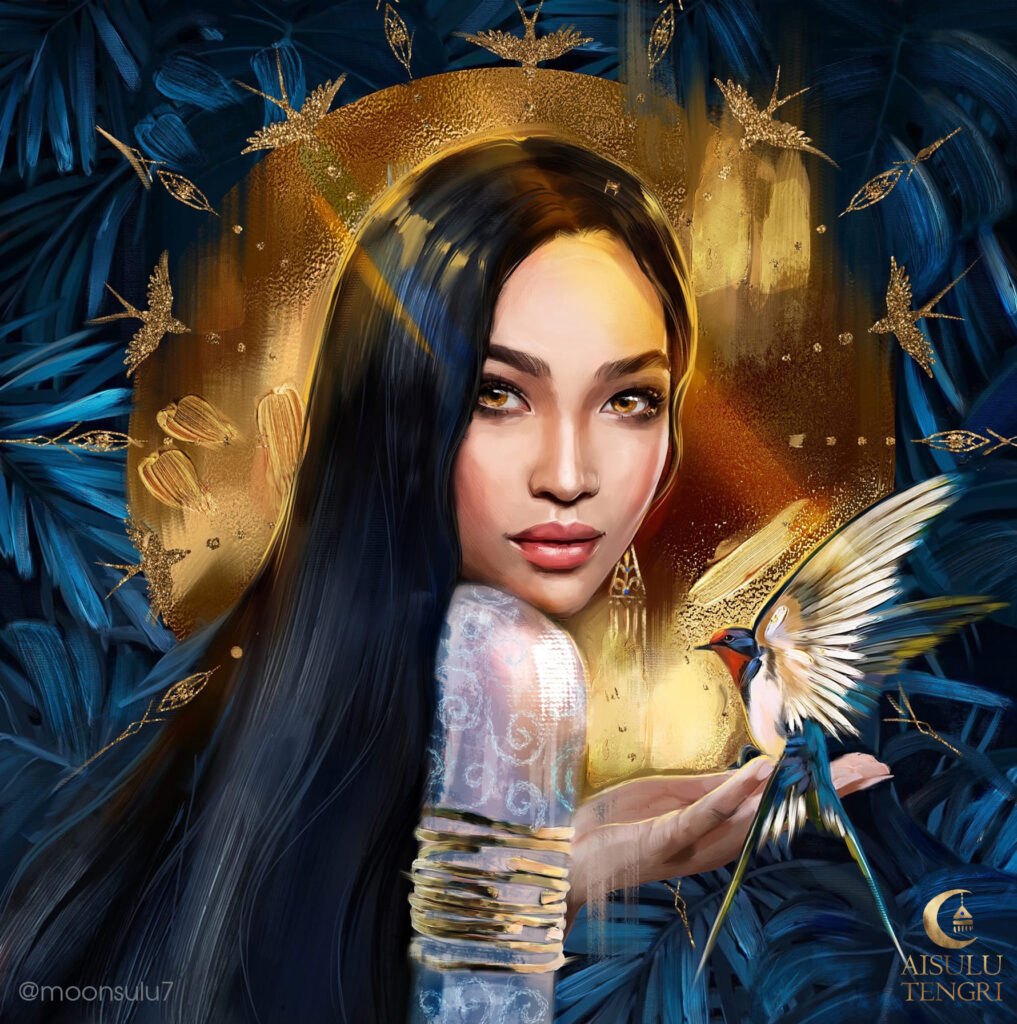 Info Shymkent: We recognized that you are painting more fairy-tale characters, if we say – more fantasy worlds. And it feels like your paintings are dedicated for the children, they look soft and beautiful. Do you use this style from a long time or is it your new style which was chosen over time? Can you tell us about your paintings?
Aisulu: Yes, you are right, I like to paint more fairy tales, especially I like to paint fantasy worlds in our national Kazakh style. In fact, my style has changed a lot over the time. Ten years ago, I loved painting scary stories, and the style was different than the current one. It was due to a certain influence on my life. As a teenager, I also loved drawing in anime style. I really like the artwork and style of the Japanese director-animator Hayao Miyazaki. The subject for children is closer to me, so I often accept requests in that genre. In my opinion, a modern artist should be able to paint in different styles. As we talking about my pictures: I am the biggest critic of myself. When I look at the pictures I've painted before, I remember them and feel warm memories.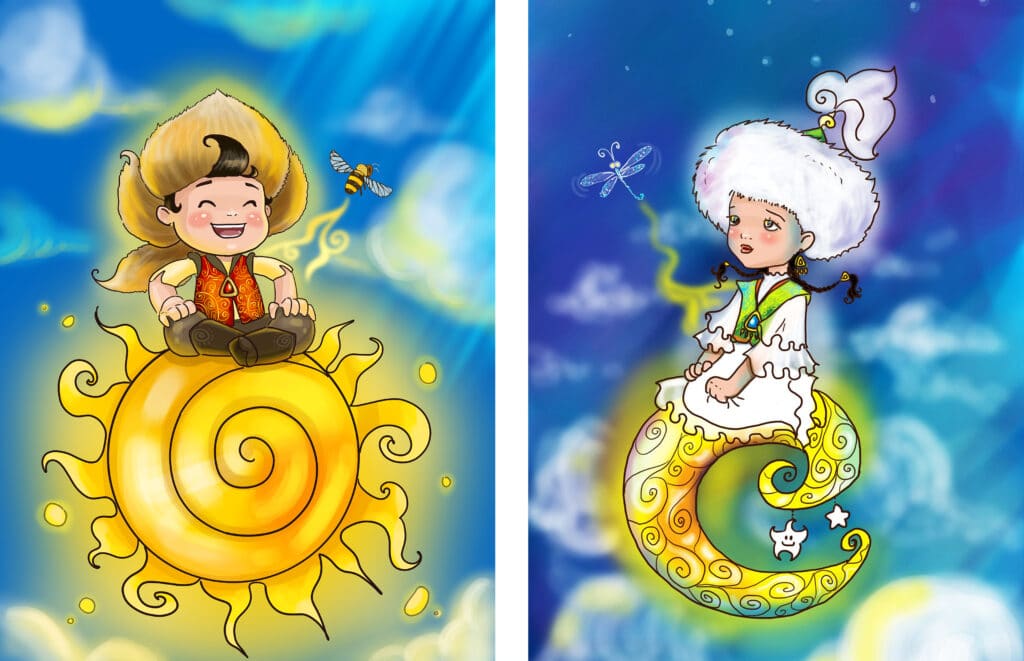 Info Shymkent: You illustrate books. Let's talk about it.
Aisulu: When I graduated, I chose book illustrator as a profession. At that time, I chose the genre of children's comics and I made interesting stories and painted them. Apart from graphic design and painting, book illustrations have become firmly entrenched in my life since this moment. As I cover all areas of painting, I'm doing national Kazakh painting along with digital painting. That's why my future exhibition can be performed with different techniques.
Info Shymkent: Do you have any difficulties in illustrating the book? Which book was especially difficult for you to illustrate?
Aisulu: Honestly, there were no problems with the projects I chose. Probably because I chose the ones that are closest to me. Over the time I gave more attention to the peace of mind at work. The main thing for the illustrator is to find a connection with the author, to have the same point of view, then the rest will be smoothly.
Info Shymkent: How do you paint? Do you paint on the canvas or do you like using digital devices? And do you do your own exhibitions? How do you perceive the reaction of the audience?
Aisulu: I have participated in joint exhibitions before, and now I plan to organize my own exhibition. When I paint, I use oil painting, acrylic, watercolor techniques, and I do digital illustrations by using a tablet computer. It is interesting to observe the reaction of the audience at the exhibition. Compared to the past, many spectators are now open-minded, visit more exhibitions,they look at paintings, fill their homes with high-quality beautiful paintings and refresh their collections.
Info Shymkent: How is art valued in Kazakhstan? How much do illustrations and drawings cost?
Aisulu: To be honest, our art is underestimated in comparison with foreign countries. Let me tell you an interesting story that opens this question: A man comes to an artist and asks him to paint a portrait of him. The artist finishes it quickly in two hours and painted it very beautiful. When the man asked the price of the painting the artist told that it costs thousand dollars. He asks: "Why it is so expensive? You only created it in just two hours.". The artist says that he spent ten years learning to become an artist to paint the portrait in two hours correctly and beautiful.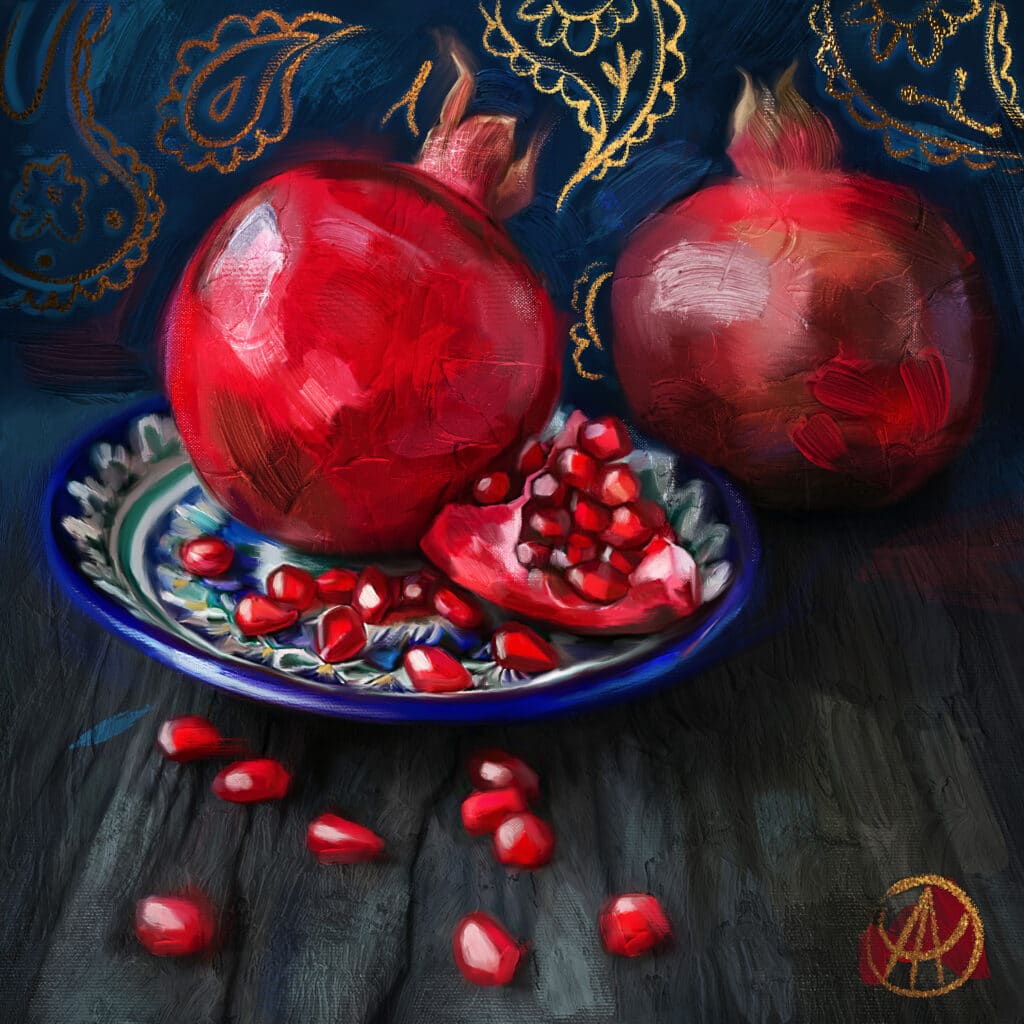 We don't have many publishers willing to pay good money for illustrators. They think that it is cheaper to buy a ready-made illustrated book from abroad and translate it into Kazakh. According to my observations, paintings in national Kazakh style painted by Kazakh artists looks even better.
Info Shymkent: Do you like to travel? Where have you been in Kazakhstan? Which city in Kazakhstan do you like? What kind of country is Kazakhstan for you?
Aisulu: I like traveling. I have been to the southern part of Kazakhstan a lot. Especially I love visiting legendary and spiritual places. I love every city in Kazakhstan. For me, in the language of the artist, my motherland is the most beautiful and vast country with beautiful people, especially rich in art – a meaningful country.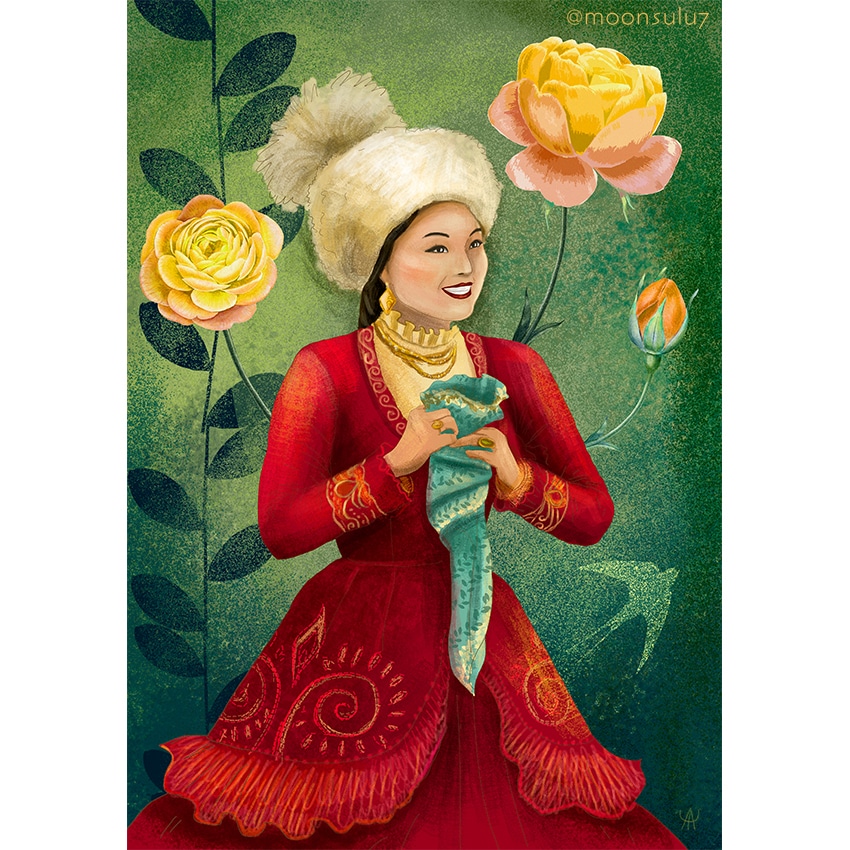 Info Shymkent: How does Covid-19 affect your work?
Aisulu: Quarantine had a good effect, I had the opportunity to work from home. Those who have seen Nur-Sultan's winter will understand me. *Smiled*
Info Shymkent: How do you get inspiration to draw and find new ideas? Where do you get these inspirations? Sometimes many painter and artists can't find inspiration, which we call a Creative Dead end. Do you have that phenomenon?
Aisulu: Yes, sometimes I also have a Creative Dead end. It is especially difficult when the deadline is approaching, when the inspiration goes elsewhere. I often find inspiration in exhibitions, beautiful movies, cartoons, listening to music, going to parties, talking to interesting people and from the compliments. Recently, when I was working with the Aruna Publishing House, I listened to the sound of a violin during painting, because the plot of the book is related to music. Because the author and the main character of the book plays on a violin.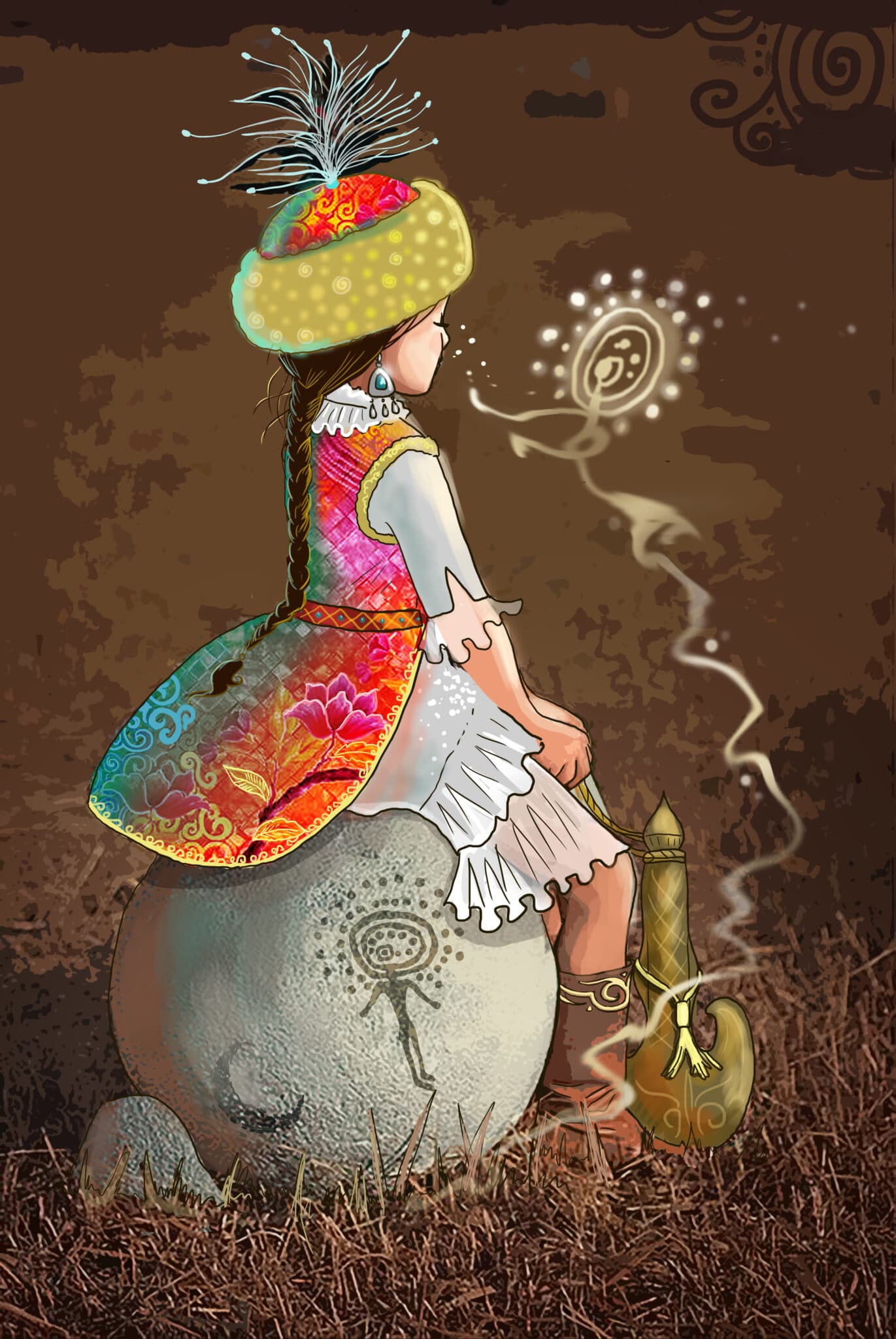 Info Shymkent: What are your plans for the future? Which plans do you have for 2021?
Aisulu: My biggest plan for 2021 is to open my own exhibition. I want to spend a lot of time in nature and I want to relax.
Info Shymkent: Thank you very much for this nice interview, Aisulu. We wish you success and creativity for your upcoming projects and good luck and curious audience for your own exhibition. We hope that we can visit your art gallery in the near future.
You can follow painter Aisulu Almasbayeva on Instagram: