Assem Muze – Kazakh Music with a French touch
The Kazakh singer and composer Assem Muze combines French with Kazakh music. We talked with her about her life, her music – and the environment.
Info Shymkent: How are you, Assem?
Assem: I am doing well. Thank you. A lot of work and a lot of plans.
Info Shymkent: Can you introduce yourself a little bit, please?
Assem: My name is Assem. I am from Nur-Sultan. My main work is related to diplomacy and France. I work for the Chamber of Commerce of France in Kazakhstan. In my free time I do music, compose songs and sing. Additionally I work as a journalist for the television program Art Global, which talks about the modern culture of Kazakhstan, which has gone beyond Kazakhstan.
Info Shymkent: How did you become a professional musician?
Assem: I am not a professional musician. But music has always been in my life. At the age of 13, I started going to a guitar club. I went to guitar courses for two months, and then I began to study on my own, playing and singing covers of songs, composing the first songs. I sang in the ensemble, participated in various local and international bard festivals (singing original songs with a guitar, a style popular in Soviet times). While studying for a Master's degree in France, I met Rustem Abdrakhmanov, we studied engineering at the same university. He composed poems in his free time: in English, Russian, and later in French. So we started composing songs together, he wrote poems, and I composed music for the songs. Arriving back in Kazakhstan after Master's graduation, in 2016 I won the national francophone song contest organized by the Embassy of France in Kazakhstan, performing an original song in French (composed jointly with Rustem). In 2017, together with a friend Polina Tyrina with whom I went to a guitar club, we founded the Almas duo (the duo lasted until 2019). The main distinguishing features of the duo were: always live sound, acoustic performance, and singing songs in nine different languages. In 2019, I started my solo project Assem Muze. Today I am working on my own musical album.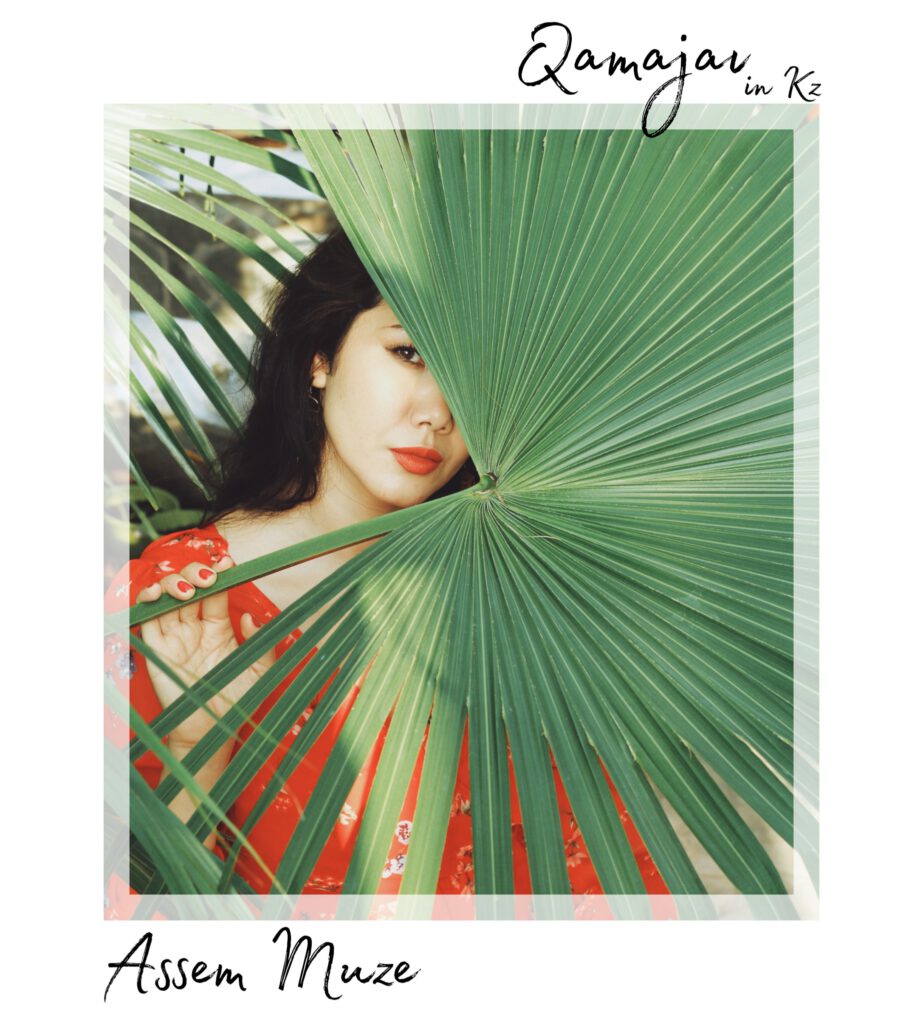 Info Shymkent: Can you tell us a bit about your daily work?
Assem: Half of my working time is devoted to the main work, which includes negotiations, work with French companies, organization of business events, etc. The rest of the time, I write songs, write scripts (for Art Global), going out to (photo / film) shootings, events, performances, rehearsals with musicians.
Info Shymkent: You recorded as Almas Duo the Album Français à la Kazakhe with Kazakh, Russian and French songs. How do France and french language stand in relation to you?
Assem: First of all, I studied a master degree and worked in France. And during my study time I learned French. I like this language. From a musical point of view the language is very melodic and gentle.
In 2019, the Embassy of France in Kazakhstan invited me to record an album of my original songs in French. Since I was playing in a duo at that time and there were Kazakh folk songs in the duo's repertoire, we decided with Rustem to try translating Kazakh songs into French and also include them in the album. As a result, for three months of work, we, with the Almas Duo, released an album called Français à la Kazakhe, which includes five Kazakh folk songs translated into French (Dudarai, Kozimnin Karasy, Karatorgay, Kosni Korlan, Yapurai) and five original songs in French written by me and Rustem.
For each of the songs, their own original arrangements were developed, including Kazakh folk instruments, as well as modern instruments such as a guitar, violin, bass guitar, etc. The project received wide resonance in the press, positive reviews on social media. Within the framework of the project, three concerts were held: Two concerts in Astana (now Nur-Sultan) and one in Almaty. We received information that residents of other countries were surprised to discover the song culture of Kazakhstan precisely thanks to the videos with traditional Kazakh songs in French published on YouTube as part of the project. The video for Abay Kunanbayev's song Kozymnin karasy in French still collects a large number of views on YouTube.
Today the album is available in all MELOMAN stores throughout Kazakhstan, as well as on the largest digital sites – Yandex.Music, Spotify, iTunes, etc.
Info Shymkent: What's your current music project? Tell us a little bit about it.
Assem: Last week, on June 5, on the day of Environmental Protection, I released a song called La terre en héritage – Land in Heritage. The song and video were released by art order of the Embassy of France in Kazakhstan.
A song about the beauty of our Kazakhstani land, the beautiful nature that we will ever leave to our children, and how important it is to think and act today to save what we have! In the song, we mention the problem of the Aral Sea, air pollution, disappearance of rare animals in Kazakhstan, and this is only part of the reality that surrounds us. The song is accompanied by a clip showing the nature of Kazakhstan. The goal of the project is to make people think about what each of us can do to preserve what we have … maybe use public transport more instead of individual cars, throw out garbage, sort it, do not litter in nature and on the streets, buy less clothes and generally consume less? The song is released in two languages: French and Kazakh.
This song is part of the album Experiment, which I plan to release in September. The album includes original songs, co-written with Rustem, in Kazakh, English, French and Russian, but I'd say with Kazakh flavor.
Info Shymkent: What are you doing to relax after a hard working day?
Assem: Reading a good book, playing the guitar, as well as spending time with loved ones, family, friends helps me to relax.
Info Shymkent: What was your greatest moment in life so far?
Assem: Thanks from the audience after the presentation of the album Français à la Kazakhe.
Info Shymkent: Have you visited Shymkent in your life? What can you tell us about your visit there?
Assem: I have visited Shymkent just one and for a very short time. But I can say that Shymkent has a really beautiful nature, hospitable warm residents and talented open-minded young people.
Info Shymkent: What are your plans for the future? Do you plan to make concerts after Covid-19? Maybe in Shymkent?
Yes, at least I plan to give a concert with the presentation of the album "Experiment" in Nur-Sultan. And I would really like to someday come with a concert in Shymkent.
Info Shymkent: Thank you very much for the interview, Assem. We wish you good luck for the release of your new album "Experiment" and your journalistic work – and we hope we can meet you one day at a concert in Shymkent.
Follow and listen Assem Muze: